Israeli forest blaze extinguished
CABINET UNDER FIRE: One pundit called the disaster 'Netanyahu's Katrina,' while the government said it would set up a new firefighting body and buy firefighting planes
A forest fire that killed 42 people in northern Israel's Carmel region and triggered a broad international aid effort has been extinguished, Israeli police said yesterday.
Efforts to beat down the blaze, which erupted on Thursday, were helped by overnight rains, rare in a parched winter for Israel. Most of those killed were prison guards sent to help evacuate a jail in the Carmel mountains, south of Haifa port.
Haifa police chief Ahuva Tomer, who suffered serious injuries in that mission, died yesterday, her family said.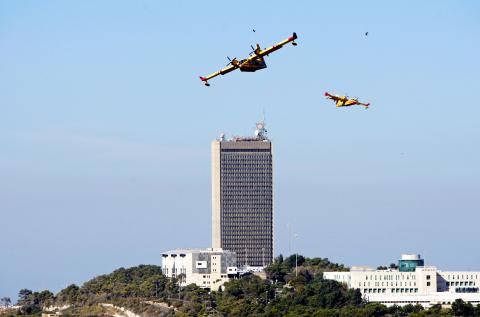 Fire-fighting airplanes from Turkey fly past Haifa University as they take part in efforts to extinguish a forest fire on Mount Carmel, Israel, on Sunday.
Photo: REUTERS
Israeli media, which assessed the cost of the damage at around 2 billion shekels (US$550 million), said most of the foreign firefighters who had answered Israeli Prime Minister Benjamin Netanyahu's appeal for help would depart later in the day.
"All of the fires were officially extinguished as of midnight," police spokesman Mickey Rosenfeld said.
However, the Israeli fire brigade said it would take several days to confirm evacuated areas of the Carmel mountain range were safe. The blaze was stopped before it could threaten Haifa.
Rosenfeld said eight people had been arrested on suspicion of setting the fire either deliberately or through negligence.
For the first time, the Israeli government has released emergency funding to help residents who lost their homes in the fire, including mobile homes.
"I don't want delays or bureaucracy. I want all the people who were evacuated to be able to return to their lives as soon as possible," Netanyahu said.
The disaster prompted recrimination within Netanyahu's coalition government and public calls for the resignation of Israeli Interior Minister Eli Yishai, one of its most powerful partners. He has been accused of preferring to seek public funds for his ultra-orthodox constituency rather than for the fire service.
Commentators were scathing in their criticism. One described the fire as "Netanyahu's Katrina," a reference to former US president George W. Bush's handling of the hurricane that devastated New Orleans in 2005 and blighted his standing with the US public.
"The politicians passed themselves off as purposeful responders to 3am phone calls. In reality they didn't have a clue as to what to do when the phone rang at 3pm," Amir Oren wrote in Haaretz.
The government has announced plans to create a new body charged with overseeing the response to fires and said it would buy several firefighting planes. Israel has just 1,500 firefighters and no firefighting planes, forcing it to rely on international assistance to put out the blaze.
Meanwhile, firefighters in Lebanon battled a forest blaze on Sunday that has raged out of control for the past week, and frightened villagers north of Beirut fled as flames threatened to engulf their homes.
The civil defense services said 42 separate blazes had been reported in Lebanon, four of them large.
Lebanese President Michel Sleiman traveled to the village of Fatri, 45km north of Beirut, to inspect efforts to control the blaze, which has devastated 150,000m2 of woodland.
Municipal council leader Imad Daou said rough terrain hampered the firefighting effort while high winds had fanned the flames.
"Trees more than 100 years old, olive groves and pines have been lost," he said.
In Ankara, a diplomat said two Turkish firefighting planes that had been used to battle the Israel inferno would fly to Lebanon yesterday to help tackle the blaze there.
The decision was taken after Lebanese Prime Minister Saad Hariri asked Turkey to help, the diplomat said.
Comments will be moderated. Keep comments relevant to the article. Remarks containing abusive and obscene language, personal attacks of any kind or promotion will be removed and the user banned. Final decision will be at the discretion of the Taipei Times.