Clashes stoke tensions in Guinea after poll delay
BILIOUS BEVERAGES: Unconfirmed rumors are swirling that drinks at a meeting of one of the contender's supporters were poisoned. An investigation is under way
Security forces in Guinea's capital fired live rounds to try to stop fighting and looting, residents said, and violence also erupted in several other towns after a presidential election set to be held over the weekend was indefinitely delayed.
Tensions were made worse by rumors started on Friday that a group of supporters of one of the candidates had been poisoned.
A contender in the election has denounced the country's security forces for using violence against his supporters who have been demonstrating in the capital last week.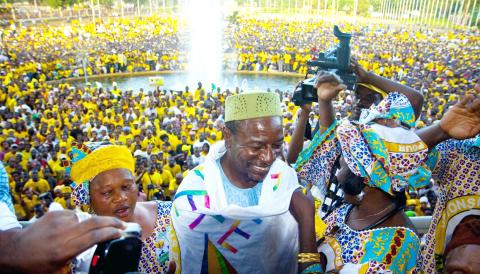 Guinean presidential candidate Alpha Conde, center, attends a campaign rally in Conakry on Friday.
PHOTO: REUTERS
Former Guinean prime minister Cellou Dalein Diallo said that clashes continued on Saturday between his supporters and security forces.
The world's top bauxite exporter was to hold a presidential run-off yesterday between the former prime minister and rival Alpha Conde, but preparations for the poll were marred by rows in the election commission and street violence.
"The security forces have deployed and they have intervened. We heard gunfire and people ran home," said a resident of Dixinn, a Conakry neighborhood.
Clashes were also reported around the Madina market, which is Conakry's largest and a potential flashpoint, and the towns of Kankan and Siguiri. Calm was restored later in the day, witnesses said.
The election commission, now headed by a Malian because of doubts over the impartiality of the body's former boss, indefinitely delayed the poll on Friday evening. Neither camp has complained about the delay.
Shortly after the announcement, the poisoning rumors spread around a city already brimming with political tension.
"Clashes erupted everywhere after this information spread," said a senior police officer, who asked not to be named.
One person died and more than 100 were ill, Conde spokesman Moustaphe Naite said. An initial probe had found that acid had been put in the drinks of Conde's supporters at a meeting, he said.
It was not possible to confirm the reports of the poisoning, but an investigation had begun, the policeman said.
A Reuters witness saw about 60 people who were being treated on Friday evening in the emergency ward at Ignace Deen hospital.
The same police source and a witness said a 15-year-old who had drunk water at Conde's meeting died after vomiting blood.
"Aside from this girl who died in hospital, many people were injured in last night's violence. People took advantage [of the violence] to loot some shops," a police officer said.
Ibrahima Sory Camara, a resident of Kaloum neighborhood, said shops had been looted and people beaten by angry rioters.
Yesterday's election was meant to complete the process of restoring civilian rule to Guinea, nearly two years after a coup. The polls would be the first free vote since independence from France in 1958.
The new delay could give the electoral commission time to solve problems which emerged after a relatively peaceful first round of voting in June. New election commission head General Siaka Sangare described voting conditions as "deplorable."
Both Conde and Diallo have pledged to include each other in any future government, whoever wins. However, there are fears that the delay could raise the chances of clashes between Conde's Malinke and Diallo's Peul ethnic groups, or even a new military coup.
The UN called on Friday evening for a new election date to be set quickly.
During protests earlier last week, security forces fired at unarmed protesters, killing one man and wounding at least 62, the UN said.
Comments will be moderated. Keep comments relevant to the article. Remarks containing abusive and obscene language, personal attacks of any kind or promotion will be removed and the user banned. Final decision will be at the discretion of the Taipei Times.