UN poverty summit calls for more urgent action
COMMITMENT Leaders of developing countries accused rich countries of failing to keep their promises, while an aid group said the summit was an 'expensive side-show'
US President Barack Obama called for greater urgency in the fight against the world's social ills as a UN poverty summit ended late on Wednesday with tens of billions of dollars of pledges but lingering pessimism about the impact.
Obama unveiled a new "big hearted" but "hard headed" US aid policy to push the poorest countries toward prosperity. UN Secretary-General Ban Ki-moon launched a US$40 billion drive to save the lives of millions of women and children. Britain, China and Japan also promised more help.
However, many leaders still accused wealthy nations of failing to keep their promises to provide assistance. Aid groups said millions would still die unnecessarily in the final five years of the UN Millennium Development Goals (MDG) initiative launched in 2000.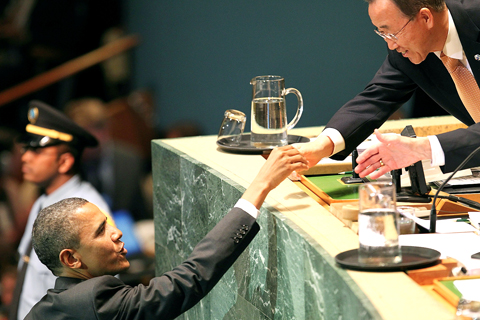 US President Barack Obama, left, shakes hands with UN Secretary-General Ban Ki-moon before addressing the Millennium Development Goals summit at the UN headquarters in New York on Wednesday.
PHOTO: AFP
Obama and the UN chief highlighted advances made to reduce poverty and disease, spread education and increase opportunities for women since the Millennium summit in 2000 set eight key development targets.
But the US leader said progress "has not come nearly fast enough."
"Not for the hundreds of thousands of women who lose their lives every year simply giving birth. Not for the millions of children who die from the agony of malnutrition," Obama said.
"We must do better," Obama told the assembled leaders.
Obama said the US would now concentrate on countries that invest in their future and boost democracy, good governance and free trade.
The UN chief said governments, philanthropists and private groups pledged US$40 billion in initiatives to boost the health of women and children.
Ban estimated that his Global Strategy for Women's and Children's Health would save 16 million lives by 2015.
Of the eight key development targets set a decade ago, cutting deaths of women during pregnancy and childbirth and those of children younger than five have seen the least progress.
Japanese Prime Minister Naoto Kan promised US$5 billion over five years to help meet the UN's health goals and US$3.5 billion for attempts to meet the target of establishing universal primary education.
British Deputy Prime Minister Nick Clegg vowed that his country's aid would reach 0.7 percent of gross national income by 2013. He called on other countries to follow suit.
Among the final speakers before the summit close was Melinda Gates, whose husband Bill Gates, the world's richest man, is plowing much of his fortune into the fight against disease.
Ban acknowledged the "gaps" left in the final five years of the MDG campaign.
"But this week, we also heard a catalogue of progress: In reducing poverty, expanding primary education, fighting killer diseases, ensuring clean water," he said.
Doubts were expressed inside and outside the summit chamber though.
St Vincent and the Grenadines Prime Minister Ralph Gonsalves said rich nations were behind many of the obstacles stopping nations becoming more prosperous.
"While developing countries continue their heroic struggle to advance in an increasingly difficult economic environment, many of our development partners have replaced their firm and measurable commitments of assistance with platitudes and empty rhetoric," he told the summit.
Aid groups expressed strong doubts about the summit outcome.
ActionAid chief executive Joanna Kerr called the UN summit "an expensive side-show."
"UN summits will continue failing to deliver so long as leaders keep making empty promises on too many issues," she said.
Oxfam spokesman Ray Offenheiser welcomed the new US foreign aid policy, saying it would help developing countries.
"But let's not forget — in the time that President Obama stood at the podium to deliver his UN address, 30 women died in childbirth, and 66 children will have died from Malaria," Offenheiser said.
"Those numbers will repeat every hour upon hour until the president's words are turned into action," he said.
Comments will be moderated. Keep comments relevant to the article. Remarks containing abusive and obscene language, personal attacks of any kind or promotion will be removed and the user banned. Final decision will be at the discretion of the Taipei Times.