FEATURE : Poets rediscover Moscow platform to oppose leaders
Matvei Krylov perched on a barricade in a central Moscow square and began reciting a poem by a ­Soviet-era dissident as a rag-tag audience, from goths to a headscarfed pensioner, gathered to listen.
Every month a group of left-wing activists and amateur poets gathers to riff on Russian Prime Minister Vladimir Putin and problems such as the deadly August forest fires in a rare outlet for criticism of the Russian authorities.
The readings take place on Triumfalnaya Ploshchad, also the scene of regular attempts to hold unsanctioned protests on the 31st day of the month, to demand constitutional rights, which are roughly put down by riot police.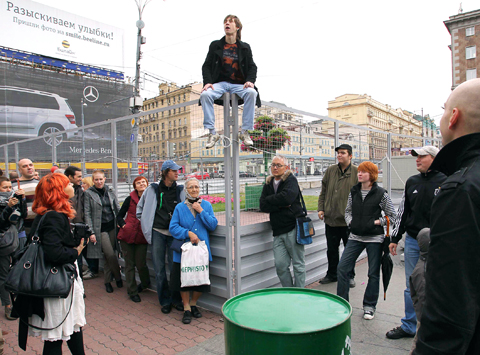 A man sits atop a fence as he recites a poem of his own creation on Aug. 29 near a statue of Soviet poet Vladimir Mayakovsky at Triumfalnaya square in Moscow.
PHOTO: AFP
Police have also tried to stop the poetry readings and asked that they avoid swearing or mentioning politics, organizers said.
Under the shadow of an immense statue of the great Soviet poet of the 1920s, Vladimir Mayakovsky, famous for his explosive rhymes, the readings recall the dissident poetry of the 1960s that rattled the Communist authorities.
"The police have an order to put a stop to any politics. They warn us not to talk about Putin," said poet and left-wing activist Vladimir Koverdyayev, a member of the banned National Bolshevik party.
"Last time they tried to detain us, we had to explain for a long time that it's not political," said Krylov, a member of the same party. "For them, any gathering of people is a meeting, a protest. It's extremists, potential enemies."
At the latest reading, around 50 people, most in their 20s, gathered on a drizzly evening. Some drank cognac and ate chocolate as poets stepped up with typed pages to an improvised oil drum rostrum.
Two curious policemen looked on grinning. One asked a journalist how long the readings would last, but both drifted off after listening to a few lines.
Despite the ban, references to Putin and Russian President Dmitry Medvedev abounded.
Koverdyayev, 36, read a poem that ridiculed the police rules.
"It's not allowed, but I don't give a fuck/ I mean I don't give a toss," he read.
"It's high time for Dima and Vova to be sent for a rest," he said, using the nicknames for Medvedev and Putin.
Another poet, Vladislav Tushnin, mocked Putin's televised appearances during last month's forest fires.
"Putin takes a ride on a speed boat/ He and [emergency minister Sergei] Shoigu are raking in the dough/ We're sick of this, Putin/ We have had enough of this television circus," he read.
Arseny Molchanov read a protest poem called Country — and almost all the audience joined in with a word perfect recitation.
"Turn on rag-doll Channel One/ Turn it on for even a minute/ The premier says the conveyor lines are working great/ The minister says everything is cool in the army," he said.
"And my country ... she only hears the great songs of Dima Bilan/ She breathes through the scars of Kursk, Nord-Ost, Chechnya and Beslan," he said, juxtaposing the Eurovision song winner with Russia's worst modern tragedies.
Some of the poetry is doggerel, but some is powerful. Molchanov is the best known figure, a kind of rock 'n' roll poet who regularly performs his poetry with musicians at Moscow clubs.
Last month the readings were visited by British poet Alan Brownjohn.
Koverdyayev and Krylov both have plenty of experience of political combat.
Boyish-looking with floppy hair, Krylov risks jail if he gets in trouble with the police since he is serving a suspended sentence for breaking into the foreign ministry's lobby last year in an attempted protest.
Koverdyayev, dressed smartly and carrying a leather case, leads the National Bolsheviks in the Moscow region. He was briefly held in a psychiatric hospital in 2008 after he was detained on drugs charges. He was later pronounced sane and fined for drugs possession.
Krylov opened the latest reading with a poem by a Soviet dissident who died in a prison camp, Yury Galanskov.
"Beaten to the ground, I spit on your iron city, packed with money and dirt," Krylov shouted on the square, which has been barricaded off by the Moscow city authorities in an apparent move to deter protests.
Titled the Human Manifesto, the poem became the unofficial anthem of poetry readings on the same spot during the Khrushchev-era thaw. Galanskov and other dissidents including Vladimir Bukovsky were the initiators.
Those readings came to an abrupt end in 1961 when the authorities cracked down on the poets and brought five of them to trial. The new generation of poetry readers sees parallels.
"I think it is approximately the same time," Koverdyayev said. "People aren't able to express their opinion openly. People are uniting."
Watching the poetry reading was a 70-year-old math teacher, who gave her name as Lyubov Alexeyevna, who said she remembered the Soviet-era gatherings although she never went along herself.
But she traveled from a suburb for this event after hearing about it on the Echo of Moscow radio.
"I'm very worried about what is going on in our country," she said, citing plans to build a highway through forest near Moscow and rising food prices.
"It's really great. I see they have bright faces, not beaten down," she said. "I did not expect that so many young people would come along. Now they have revived the readings, good for them."
Comments will be moderated. Keep comments relevant to the article. Remarks containing abusive and obscene language, personal attacks of any kind or promotion will be removed and the user banned. Final decision will be at the discretion of the Taipei Times.