Wind, rain and waves from Hurricane Earl buffet the coast of North Carolina
Hurricane Earl battered North Carolina's coast with rain, winds and waves yesterday and swirled up the US eastern seaboard toward New England and Canada as a weakened but still dangerous storm.
The impact of the Category 2 storm appeared to be less than originally expected as Earl churned north parallel to the US Atlantic coast hours after it was downgraded from a Category 4 hurricane.
Surging waves pounded North Carolina's Outer Banks low-lying barrier islands, the most exposed areas to Earl.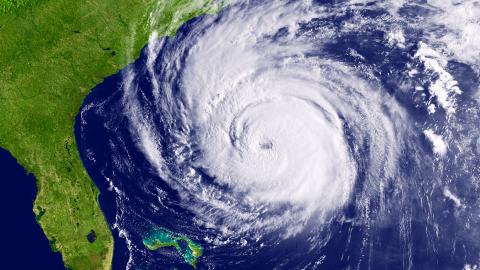 Hurricane Earl is pictured moving north-northwest in the Atlantic Ocean, off the coast of the southeastern US, in a National Oceanic and Atmospheric Administration satellite image taken and released on Thursday.
PHOTO: REUTERS
Local emergency officials said no casualties or major structural damage had been reported so far. At least one coastal road was cut by waves washing over it.
"Certainly conditions are not as severe as they could have been," said Sandy Sanderson, the director of emergency services in Dare County.
At 2am, Earl was packing top sustained winds of 165kph and its center was passing east of the Outer Banks islands that jut into the Atlantic, the US National Hurricane Center said.
Earl's core was located about 140km south southeast of Cape Hatteras, and about 830km south southwest of Nantucket, Massachusetts.
A slight further weakening was forecast during the next 24 to 36 hours but Earl was expected to remain a large hurricane as it turned toward the northeast and headed for southeastern New England.
Offshore buoys at varying distances off the Outer Banks recorded waves as 8m and even 10.7m.
As oil refineries, drilling platforms and nuclear power plants along the Atlantic coast monitored Earl's path, EnCana said it suspended drilling and pulled personnel from a Nova Scotia rig in Canada.
Exxon Mobil said it had pulled nonessential staff from its Sable field in offshore Nova Scotia.
The US Energy Information Administration said about 1.1 million barrels per day of oil refining capacity lies in the likely US affected area.
At least 100,000 people were ordered to evacuate from North Carolina's Outer Banks islands as Earl approached the Atlantic shore.
It was one of the biggest storms to menace the state since Hurricane Floyd killed more than 50 people in 1999.
The US Census Bureau estimated 26 million people in coastal counties from North Carolina to Maine could feel Earl's effects in the next two days.
While a direct US landfall was not expected, Earl is forecast to spin northward along the coast during the Labor Day holiday weekend marking the end of the summer vacation season.
Comments will be moderated. Keep comments relevant to the article. Remarks containing abusive and obscene language, personal attacks of any kind or promotion will be removed and the user banned. Final decision will be at the discretion of the Taipei Times.