Malaysia activists hail timber firm blacklisting
Malaysian activists yesterday applauded a decision by Norway's state pension fund to blacklist timber firm Samling Global, which is accused of rampant environmental destruction in Borneo.
Rights campaigners have also accused Samling of trampling on the rights of indigenous people, particularly the Penan tribe in Malaysian Borneo, who have mounted blockades against the firm to protect their ancestral land.
Norway's state pension fund, one of the world's largest sovereign wealth funds, accused Samling Global of "extensive and repeated breaches" of regulations in Sarawak state.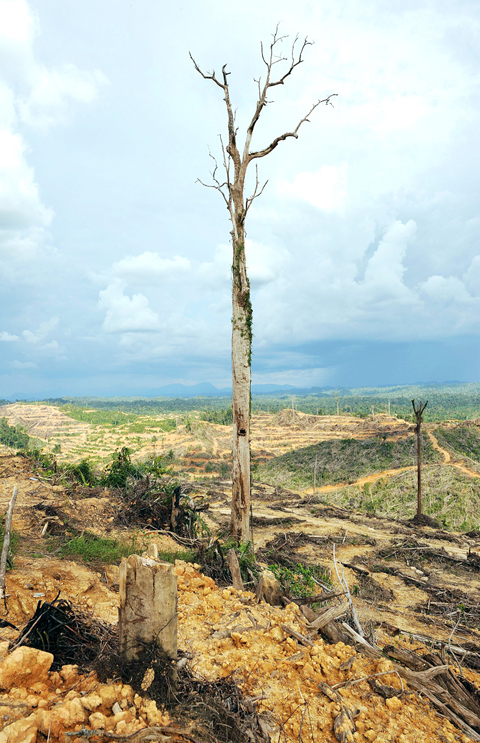 A tree stands alone in a logged area near Lapok in Sarawak State on Thursday.
PHOTO: AFP
"The Council on Ethics has assessed Samling Global, and concluded that the company's forest operations in the rainforests of Sarawak and Guyana contribute to illegal logging and severe environmental damage," it said.
Sarawak and neighboring Sabah state make up the Malaysian half of Borneo, a huge resource-rich island shared with Indonesia.
At the end of last year, the Norwegian fund, which contains nearly all state revenues from the country's prosperous oil and gas industry, held 8.1 million kroner (US$1.3 million) in stock in Samling, which has now been sold.
A headman of a nomadic Penan tribe stands guard outside the village of Long Nen in Malaysia's Sarawak State on Friday.
PHOTO: AFP
The corruption watchdog Transparency International Malaysia, which has linked illegal logging with timber firms' big donations to political parties, said the blacklist was a wake-up call.
"I hope this will be a deterrent to other timber firms that while they are trying to maximize their profits, they must consider the environmental balance and protection," deputy president Mohamad Ali Hasan said.
Norwegian authorities "have done it right. They are not only protecting the forest, but also the indigenous population. They deserve a better environment, their peace and the right to live," he said.
There was no immediate comment from the Malaysian government and Mohamad Ali challenged the authorities to prove the Norwegian findings wrong if they disagreed with the move.
Samling said it was "disappointed" by the decision.
"Their public characterization of us is inaccurate and not based on complete information," it said in a statement. "The company remains committed to continual improvement in our sustainable forest management efforts."
However, Jok Jau Evong, ­coordinator for Friends of the Earth Malaysia and a leading campaigner for the rights of rainforest people, said Samling's exclusion would force Malaysian authorities to finally address the issue.
"As far as our people are ­concerned, especially the Penan, they have long suffered at the hands of the logging operations by Samling," he said.
"And it's not only logging — now they are also bringing this monoculture tree plantation project into Sarawak," he said of the vast stands of foreign timber species that have leveled swathes of Borneo forest. "This decision sets a precedent ... it forces the Malaysian government to be serious about the problem faced by the Penan."
Comments will be moderated. Keep comments relevant to the article. Remarks containing abusive and obscene language, personal attacks of any kind or promotion will be removed and the user banned. Final decision will be at the discretion of the Taipei Times.