Kenyans vote on constitution
EARLY TURNOUT Long lineups were already forming at polling stations early in the day as Kenyans were set to vote in a referendum on a long-awaited new constitution
Kenyans turned out in droves across the country early yesterday to vote in a referendum on a long-awaited new constitution, saying they hoped the ballot would usher in a new phase of peaceful democracy.
Lineups snaked away from polling stations across the capital Nairobi, in the Rift Valley hotspot of Eldoret and the port city of Mombasa, with many voters pitching up well before the doors opened at 6am.
"I was here by 5. I want to be a part of this historical moment. This is my second time to vote in a referendum and I wanted to be a part of change," Francis Mungai said outside a polling station on Moi Avenue in Nairobi.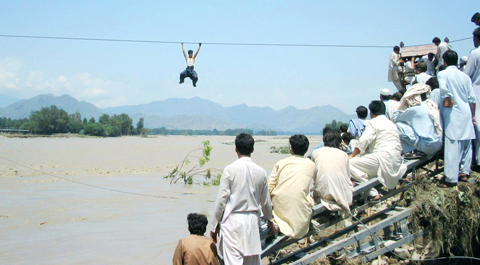 Kenyan voters line up along a street to cast their votes in Eldoret, 300km west of Nairobi, yesterday.
PHOTO: REUTERS
Laura Akwabi, outside the same polling station, said she did not expect the vote to spark the same tribal violence that followed a disputed presidential election in December 2007. About 1,300 people were killed and 300,000 uprooted in the clashes, which brought eastern Africa's largest economy to its knees.
"I'm very excited. This is a great moment for this country. I expect peace, whatever happens. At the end of the day, if the 'No' or 'Yes' side wins, we should maintain peace," Akwabi said.
Backed by Kenyan President Mwai Kibaki and Kenyan Prime Minister Raila Odinga, the "yes" vote has led opinion polls despite a feisty "no" campaign that has stigmatized the text as allowing abortion and harming certain tribes on land issues.
Supported by dozens of Kenya's influential churches, the "red" camp has made tempers flare by painting the proposed constitution as legalizing abortion, selling off the justice system to Islam or even considering gay marriage.
Members of the Kalenjin tribe also fear that new land policies could see their power curtailed.
"The people who have fuelled the question of land are the Kalenjin elite led by the former president [Daniel arap Moi]. These are guys who have big farms whose acquisition is still questionable," said Ken Wafula, director of the Eldoret-based Centre for Human Rights and Democracy. "These are people who have fear and are playing the ethnic card."
However, opinion polls in recent weeks showed that not all voters were convinced by the "no" camp's arguments on abortion and that some of the other provisions in the proposed constitution would secure the approval of a majority.
The amendment does away with the post of prime minister created for Odinga in 2008, creates a senate, devolves a degree of power to counties and slaps a number of checks and balances on the president.
It is also designed to curtail patronage and rein in the greed that has characterized Kenyan politics, notably by requiring that the entire Cabinet be composed of ministers appointed from outside parliament, and limiting their number to 22, less than half the current level.
In the Rift Valley center of Eldoret, there was a lineup about kilometer long outside the MV Patel Memorial Hall polling station. The voters were boisterous but peaceful, with queue-jumping the main gripe.
The Rift Valley was the epicenter of the 2008 post-election violence where ethnic Kikuyus supporting Kibaki fought with Kalenjins backing Odinga, who was defeated in the disputed vote.
"We want Kenya to be peaceful, that's our major concern. We don't want problems like in 2008. Voting is peaceful. If I am standing next to a Kikuyu, he is my brother. We are fine," said Ronald Cheruiyot, an herbalist, in Eldoret.
Comments will be moderated. Keep comments relevant to the article. Remarks containing abusive and obscene language, personal attacks of any kind or promotion will be removed and the user banned. Final decision will be at the discretion of the Taipei Times.