Firm accused of destroying rain forest
UNSUSTAINABLE A new report accuses Sinar Mas of secret logging plans in Indonesia, already the world's third-largest emitter of greenhouse gases because of deforestation
The environmental group Greenpeace has accused one of the world's largest pulp, paper and palm oil companies of aggressively clearing Indonesian rain forests and throwing into doubt a landmark billion-dollar deal that aims to fight climate change by curbing deforestation.
In a report released on Monday, Greenpeace accused a subsidiary of the Indonesian family conglomerate Sinar Mas of secretly planning a massive expansion of pulp mills and cutting down essential forests, including habitats for endangered tigers.
An executive with the subsidiary, Asia Pulp and Paper, denied the charges.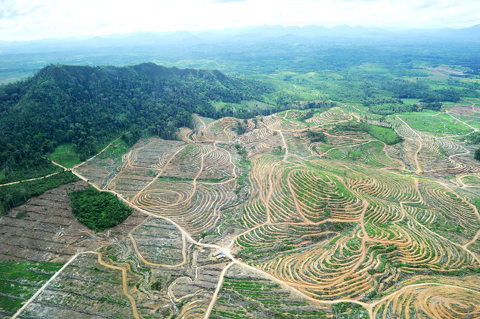 An aerial photograph shows forests that have been cleared for a palm oil concession in Ketapang district, West Kalimantan, Indonesia, on Monday.
PHOTO: AFP
The Greenpeace report says that an internal 2007 document shows that Asia Pulp drew up plans to significantly increase its pulp mill capacity to 17.5 million tonnes a year from 2.6 million tonnes.
The report also said that Asia Pulp had sought more than a million hectares in new concessions to meet this demand.
In the Sumatran provinces of Riau and Jambi alone, the ­company sought 900,000 hectares, more than half of which was granted, Greenpeace says.
"What is actually happening in the field is they keep expanding because their timber concessions are not enough to supply their mills," said Bustar Maitar, Greenpeace's lead forest campaigner in Indonesia.
Asia Pulp's sustainability chief, Aida Greenbury, denied that the company had confidentially made any such expansion plans.
Greenpeace also charges that much of the land set aside and cleared overlaps with endangered species' habitats.
Greenbury said that Asia Pulp did not use wood from forests it deemed to be of "high conservation value," which included deep peat and major endangered species habitats.
The company takes around 85 percent of its wood from plantations, she said, with the rest coming from degraded land or lower-value forests.
Greenpeace also charges that Asia Pulp has cleared peatlands more than 3m in depth. In Indonesia, the clearing of such deep peatland is illegal because the land, which is made up of ­­semi-decomposed vegetation, releases huge amounts of greenhouse gases when burned or drained.
The accusations of wrongdoing are particularly sensitive in ­Indonesia because Indonesian President Susilo Bambang Yudhoyono has staked much of his global prestige on acting against climate change.
Large-scale deforestation has made the country the world's third-largest emitter of climate ­­change-causing gases, behind China and the US, according to some estimates.
The country signed a US$1 billion deal with Norway in May that imposes a two-year moratorium on new permits to clear virgin forest and peatland.
Comments will be moderated. Keep comments relevant to the article. Remarks containing abusive and obscene language, personal attacks of any kind or promotion will be removed and the user banned. Final decision will be at the discretion of the Taipei Times.