Iraqis hot under the collar over electricity
CAN'T TAKE THE HEAT The national grid can only provide one hour of power in every four, leaving private businesses — and crime lords — to take up the slack
Private power providers in Baghdad are selling electricity at almost four times the maximum legal price, exploiting shortages and stifling summer heat while crime bosses pilfer dwindling public supplies.
Even though suppliers are breaking the law, people feel compelled to pay up in an unregulated market because they fear children or elderly relatives could die in summer temperatures that have hit 54˚C.
The government's rationing of cheap electricity from a crumbling national grid has opened up lucrative opportunities for businessmen who own generators, but the biggest problem is theft from the grid for private resale.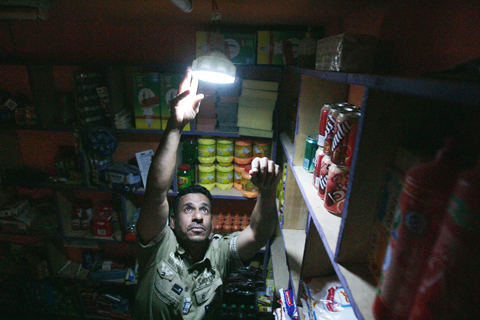 An Iraqi grocer fixes a lamp with a rechargeable battery in his shop during a power outage in Baghdad on Wednesday.
PHOTO: AFP
"They control and exploit us," said Sarmad Mohammed, a Baghdad shopkeeper, who has recently been paying a provider 26,000 dinars (US$22) per unit of electricity when the price limit set by the authorities is 7,000 dinars.
"I do not know who I can complain to. They exploit us. It is shameful," said the 35-year-old, who lives on the relatively prosperous Palestine Street in the east of the capital.
"My young children cannot bear the high temperatures," he said, explaining how he felt there was no option but to pay privately for the power he needs to run air-conditioning units and refrigerate foodstuffs at home.
Iraq's daily power generation averages 8,000 megawatts, while demand in high temperatures is typically more than 14,000 megawatts, forcing rationing.
Although the electricity ministry publishes a schedule, and aims to provide around one hour of power in every four, it is universally acknowledged as being unreliable.
Security remains the biggest issue for Baghdad politicians more than seven years after the US-led invasion that toppled former Iraqi president Saddam Hussein, but the lack of mains electricity is currently the main concern of the people.
Demonstrations over power rationing in the southern city of Basra last month saw two protesters shot dead by police. The issue prompted the electricity minister's resignation and led the government to restrict the right of assembly.
The inadequate mains supply amid massive public demand has also led to criminal "warlords" hacking into the national grid and using their own cables to resell power privately to local homes, making the situation much worse.
Ali Adnan, 33, who lives in Zayouna, an upscale neighborhood in central Baghdad, said the illegal trade was booming.
"The owner of the generator is selling us power from the government network for high prices, we know that," he said. "But what can we do? We cannot live without electricity because of the deadly heat."
But even those fortunate enough to be able to pay for a private electricity supply are not exempt from dodgy practices, often losing their supply on the pretext that users have exceeded the amount of power they paid for.
"I canceled my subscription and bought my own small generator because the owner was always blackmailing me," a shopkeeper who wanted to be known only as Abu Saif, said in Karrada, a busy commercial district in central Baghdad.
"He always claimed I used more than my agreed limit," he added, admitting that competition between providers largely dictates the price.
While interim Electricity Minister Hussein al-Shahristani has ordered power stations throughout the country to up their output, Iraqi Prime Minister Nuri al-Maliki has said that at least two more years of shortages lie ahead.
US Ambassador Christopher Hill told reporters on Tuesday that Baghdad politicians had to make swift decisions and invest in services to calm public anger.
"It's up 55 percent since 2003," he said, referring to power generation, but "the demand figure is up 75 percent. Demand is outstripping supply."
Comments will be moderated. Keep comments relevant to the article. Remarks containing abusive and obscene language, personal attacks of any kind or promotion will be removed and the user banned. Final decision will be at the discretion of the Taipei Times.