FEATURE : Uruguay women discover sexual freedom in valise
In a living room in Uruguay, a group of women ranging from their mid-teens to their late 50s gathers around a red suitcase, in eager anticipation of the goodies within.
They are not disappointed: The valise holds a breathtaking array of sensual lotions and aromatic potions designed to arouse the female libido — usually an afterthought in this traditional country not particularly known for being sexually adventurous.
The suitcase also holds a treasure trove of risque toys for the adult woman at play — some fairly mild in sexual tone, others bawdy enough to make a sailor blush.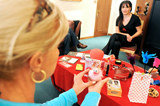 A woman looks at an assortment of erotic products sold by La Maleta Roja (The Red Suitcase) Co in Montevideo, Uruguay, on May 15.
PHOTO: AFP
The items on sale include fur-covered handcuffs, a bath sponge with a vibrator discreetly tucked inside, and an array of intimate apparel more notable for where the fabric isn't, than for where it is.
Such racy ware has long been familiar in the US and Europe, but sexual liberation was a long time coming in buttoned-up Uruguay, an insular Catholic country of conservative tastes.
Elsewhere in the world, the female market has been a major driver of the multibillion-dollar sex toy industry. Here, women are just becoming comfortable with the notion that it is all right to acknowledge and satisfy their erotic urges.
Which is where the two owners of the flourishing sex toy franchise La Maleta Roja (The Red Suitcase) come in.
Entrepreneurs Nicole Komin and Gabriela Perez say their product line aims to show women not merely how to please the men in their lives, but how to pleasure themselves.
And in this country with still prudish inclinations, the entire transaction happens in private, behind closed doors and among friends.
Perez said that even if they don't always make the sale, they succeed in something equally important: opening women's minds and helping them become more comfortable with their own bodies.
"That is something that we always achieve — making them think and evaluate where they are with their own sexuality," she said.
The duo have run their business since November last year, and also are in charge of opening new franchises throughout Central and South America.
Maleta Roja is an outpost of a Spanish company which has attained a global reach, peddling sensual wares to women across Europe and now poised to conquer Latin America.
Inviting a vendor into one's home for a private party to display and demonstrate her products is a sales approach that has been used frequently to sell cosmetics and food storage containers. But it also is proving to be the perfect way to sell sex items in Uruguay, a country of just some 3.4 million inhabitants nestled between Argentina and Brazil, which is a perfect laboratory to test the appeal of the merchandise.
The country's small size "allows us to make mistakes without killing the brand — without there being major negative repercussions," Komin said.
And Perez said that Uruguay's "conservative facade" has turned out to be a plus in many ways.
"Uruguay can be seen as a mirror of the rest of the conservative society in Latin America," said Perez, who with her business partner not only runs the franchise here, but has sold others in El Salvador and Puerto Rico, with Bolivia and Panama soon to follow.
Part of their sales pitch is in instructing the uninitiated on how to use the sex gadgets and products, as the women cluster around, peppering them with questions.
"Oh — that's how you use that!" is a commonly heard refrain.
There has also been some head-scratching around the use of the top-selling chocolate-flavored edible massage oil. The women are instructed to blow on the oil once applied to the skin to warm it slightly and then — bon appetit! — lick it up.
"Blowing is not part of my erotic vocabulary," one reluctant customer quipped, as she nevertheless followed the directions.
All the experimentation is part of a larger trend, said noted sexologist Maria Luisa Banfi, who said that the Latin American woman "is on the cusp of slowly liberating herself."
"The women of today are not limited by anything" with respect to their sexuality, compared to earlier generations, she said.
The only regret with all this new-found sexual adventure, said one octogenarian customer at a recent gathering, is that "unfortunately we didn't have this 20 years ago."
Comments will be moderated. Keep comments relevant to the article. Remarks containing abusive and obscene language, personal attacks of any kind or promotion will be removed and the user banned. Final decision will be at the discretion of the Taipei Times.