Honduras sets up truth commission
DIPLOMACY INTERRUPTED Many Latin American nations said they would boycott a summit with the EU in protest at the inclusion of Honduras' 'illegitimate' president
Honduras on Tuesday set up a Truth and Reconciliation Commission aimed at drawing a line under last year's coup.
Washington welcomed the move as marking the return of Honduras to the international arena, but many Latin American nations vowed to boycott a joint summit with the EU in protest at the inclusion of Porfirio Lobo, whom many consider the illegitimate president of Honduras.
Rights groups in Honduras slammed the commission for failing to include as part of investigative remit abuses committed during and in the aftermath of the June 28 coup that overthrew president Manuel Zelaya.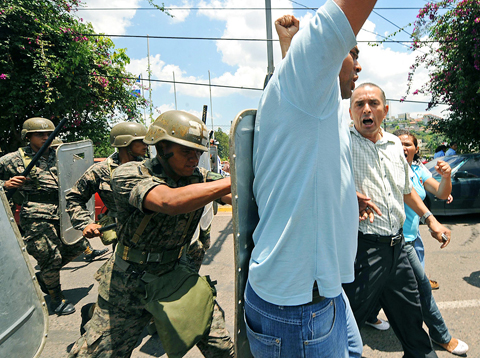 Army soldiers clash with members of the Autonomous National University of Honduras during a protest against the establishment of the Truth and Reconciliation Commission outside Government House in Tegucigalpa, Honduras, on Tuesday.
PHOTO: AFP
The commission was part of an agreement to end the political impasse between Zelaya — now in exile in the Dominican Republic — and interim leaders who backed his military ouster.
It also represents the realization of an electoral promise made by Lobo, who took office in January after controversial elections and is still seeking to attract investment back to the impoverished nation.
The commission includes Guatemalan former vice president Eduardo Stein, Canadian diplomat Michael Kergin, and head of the National Autonomous University of Honduras, Julieta Castellanos.
It will deliver a report in six to eight months, Lobo said.
Riot police with shields pushed away protesters gathered outside the swearing-in ceremony for the commission, protesting against Castellanos, who is currently locked in a labor dispute with university workers.
Meanwhile at a summit in Argentina, Ecuador's President Rafael Correa said that many in the region, including Brazil, would boycott an EU-Latin America summit this month in Madrid to protest the inclusion of Lobo.
Only two South American governments — Colombia and Peru — currently recognize Lobo, although Honduras has restored ties with Washington, as well as some Central American nations and Europe.
The top US diplomat to Latin America, Arturo Valenzuela, said in El Salvador on Tuesday that Lobo's government had now taken the "necessary steps" to return to the international community.
"Honduras is a brother country which has gone through serious enough difficulties and at the same time needs to normalize its relations with the international community," Valenzuela told a news conference in San Salvador.
But one international NGO said that the commission had been "stillborn."
Its mandate ignores the victims of rights abuses and fails to compel the authorities to cooperate, Alejandra Nuno, regional director of the Center for International Justice and Law, told a news conference in Costa Rica.
Honduran activist Bertha Oliva told the conference by telephone that rights groups were setting up an alternative truth commission in Honduras.
Comments will be moderated. Keep comments relevant to the article. Remarks containing abusive and obscene language, personal attacks of any kind or promotion will be removed and the user banned. Final decision will be at the discretion of the Taipei Times.