Tibetans mourn as quake toll mounts
STILL COUNTING Some people were still being found under the rubble, although nighttime temperatures below freezing made it difficult for those trapped to survive
Tibetans mourned dead relatives yesterday from an earthquake that killed nearly 800 people in remote western China as rescue crews found a handful of survivors, and homeless residents shivered in tents.
The official death toll from the quake that flattened much of the town of Gyegu climbed to 791, though some residents cast doubt on that figure, saying many more had died without being counted. Estimates by non-governmental organizations support a figure of about 1,000 dead.
Survivors of Wednesday's tremor spent another night huddled under quilts and in tents, while doctors struggled to treat the wounded in a makeshift medical center.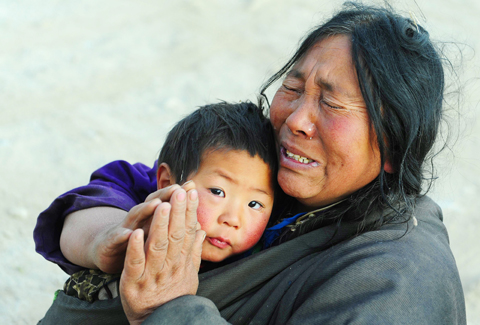 Sonammon, 52, who lost 10 members of her family in Wednesday's quake, prays while holding on to her nephew yesterday in Jiegu in Qinghai Province, China.
PHOTO: AFP
Hundreds, if not thousands, of Tibetan Buddhist monks clad in crimson cloaks and jackets joined the rescue effort undertaken by soldiers and rescue teams in distant, windswept Yushu county.
At a foothill under the main monastery of Gyegu, monks had gathered to chant mantras in front of piles of dead. Some helped residents look for kin among what appeared to be hundreds of bodies, collected on a covered platform.
"Many of the bodies you see here don't have families or their families haven't come looking for them, so it's our job to take good care of them," said Lopu, a monk clad in maroon robes. "I'd say we've collected a thousand or more bodies here. Some we found ourselves, some were sent to us."
Many bodies had already been removed by family members, he said.
Many injured locals spent a cold night in tents or outdoors waiting for medical aid. Harried doctors said they had had almost no sleep over the past two days.
Addressing residents of Gyegu high on the Tibetan plateau late on Thursday, Chinese Premier Wen Jiabao (溫家寶) clambered over rubble and pledged continued rescue efforts.
In remarks translated into Tibetan to a receptive crowd, Wen pledged that rescuers would not give up hope of finding people still trapped under rubble.
However, temperatures well below freezing at night leave little chance of anyone still surviving under collapsed buildings in and around Gyegu, where most of Yushu county's 100,000 people reside.
Rescuers were still discovering the odd survivor, including a 13-year-old girl buried in a hotel, in images shown live on state television.
A total of 243 people were still listed as missing, and more than 1,000 as "seriously injured."
"I think [of my mother], but I have to control myself and not cry. I can only pray for her safety [in the afterlife]," said survivor Chenlin Cuoma, 27, sitting in front of a makeshift tent alongside her younger sister. "After having lost her that day, I can only wish she can go to heaven and not think of anything else or have any regrets."
Some pregnant women were transferred 1,000km to the provincial capital, Xining, after at least two babies were born in tents outside Gyegu's damaged hospital, the Xinhua news agency reported.
Chinese President Hu Jintao (胡錦濤) cut short a summit in Brazil, and cancelled a planned trip to Venezuela and Chile in order to return early to China.
Convoys carrying tents, water, food, blankets and medical equipment continued to roll into Yushu county yesterday. Chinese volunteer organizations and state media launched fund-raising and clothing drives.
Comments will be moderated. Keep comments relevant to the article. Remarks containing abusive and obscene language, personal attacks of any kind or promotion will be removed and the user banned. Final decision will be at the discretion of the Taipei Times.