Hu to attend nuclear summit in US
Chinese President Hu Jintao (胡錦濤) will attend a summit on nuclear security in the US this month, China's Foreign Ministry said yesterday, signaling an easing of strained relations between the countries.
Chinese Foreign Ministry spokesman Qin Gang (秦剛) said Hu would stop in Washington for the April 12 to April 13 summit on his way to Brazil, Venezuela and Chile.
It had not been clear if Hu would attend the US-hosted event because of Chinese unhappiness over US arms sales to Taiwan and a meeting between US President Barack Obama and exiled Tibetan spiritual leader the Dalai Lama.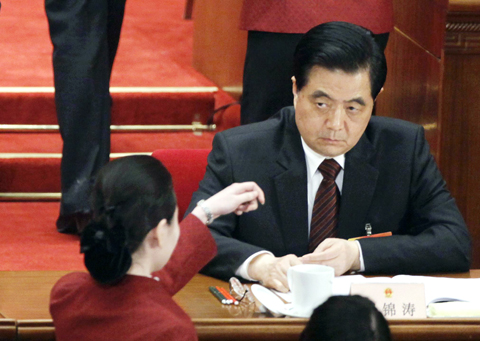 A waitress serves tea to Chinese President Hu Jintao during the third plenary meeting of the National People's Congress at the Great Hall of the People in Beijing on March 9.
PHOTO: REUTERS
"The nuclear security summit will mainly discuss the threat posed by nuclear terrorism and the corresponding measures of countries and the international community," Qin said.
He called it an important multilateral meeting and said China hoped it would "yield positive results."
China reacted furiously to the US decision earlier this year to sell US$6.4 billion in military hardware to Taiwan, and suspended military exchanges.
The sale of helicopters, missiles and other weapons came after Obama had a White House meeting with the Dalai Lama, whom Beijing accuses of trying to separate Tibet from China.
The countries have also tangled this year over trade disputes, cyberspying accusations from Google Inc and a high-profile disagreement over the value of the Chinese currency, which Washington says is being kept undervalued to unfairly support Chinese exports.
Hard-liners in the Chinese military have argued for punishing the US by withholding cooperation on issues such as Iran and climate change.
In February, China said Obama's meeting with the Dalai Lama "seriously" hurt bilateral relations. It summoned US Ambassador Jon Huntsman to protest.
Other world leaders are expected to attend the nuclear summit, including British Prime Minister Gordon Brown, despite a likely election campaign in his country.
After Washington, Hu will travel to South America. His stop in Brazil will include a meeting with leaders of Brazil, Russia and India. The four major emerging economies are seeking a greater say in the world economy, including a greater role in global financial institutions.
Comments will be moderated. Keep comments relevant to the article. Remarks containing abusive and obscene language, personal attacks of any kind or promotion will be removed and the user banned. Final decision will be at the discretion of the Taipei Times.