World responds to deadly Haiti quake
ON THE WAY The US Coast Guard moved cutters and aircraft close to Haiti to help out, while the Netherlands offered US$2.9 million in aid and may send rescue teams
World governments and aid agencies mobilized emergency rescue teams and supplies for Haiti yesterday after a massive 7.0 earthquake that flattened buildings, with hundreds feared dead.
US President Barack Obama said his country stood "ready to assist" the impoverished Caribbean nation and authorities had begun assessing requirements.
"We are closely monitoring the situation and we stand ready to assist the people of Haiti," Obama said.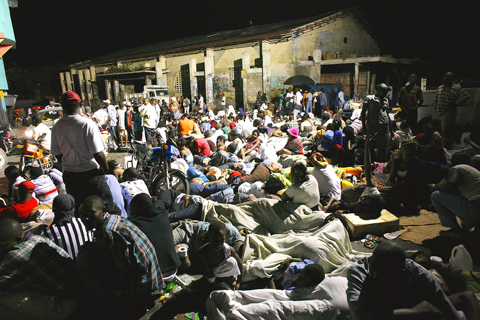 Residents sleep in the street in Port-au-Prince, Haiti, after Tuesday's earthquake.
PHOTO: REUTERS
In Miami, the US Coast Guard said it had "mobilized cutters and aircraft to positions in close proximity to Haiti to render humanitarian assistance as needed."
USAID, the government aid agency, said it was dispatching a Disaster Assistance Response Team along with a search-and-rescue team of at least 72 personnel and six rescue dogs.
In Britain, a government humanitarian assessment team geared up to fly out to the island state as Prime Minister Gordon Brown said he was "ready to provide whatever humanitarian assistance is required."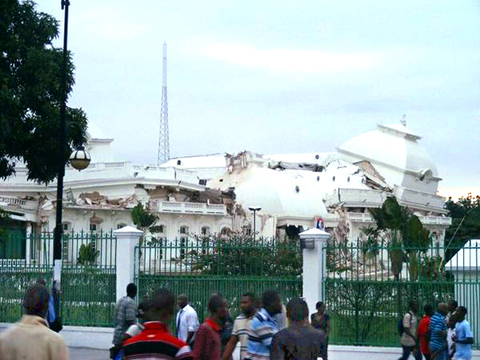 The presidential palace stands in ruins in Port-au-Prince, Haiti, after an earthquake measuring 7.0 rocked the Caribbean nation on Tuesday, toppling buildings and causing widespread damage and panic.
PHOTO: AFP
A Department for International Development (DFID) spokesman said they were "deeply concerned," with the Haitian government and humanitarian agencies still unable to give a clear picture of their needs.
"It appears to have been severe, causing considerable damage and harm," he said. "Overnight we have mobilized a DFID humanitarian assessment team to fly to Haiti today."
Aid agency Oxfam said it had emergency response teams in the region poised to respond.
"At this stage it is too early to tell the severity of the earthquake in Haiti, but the early signs are not good, with communications down across the country," said Jane Cocking, the charity's humanitarian director.
"Oxfam has its emergency response team for Latin America based in Haiti, so we are well prepared, with a public health, water and sanitation team in Port-au-Prince ready to respond."
The international Red Cross said in Geneva it had it had unlocked emergency funds and was mobilizing relief supplies.
"Emergency stocks are prepositioned in Haiti and will allow us to bring aid to 3,000 families for three to four days," International Federation of the Red Cross and Red Crescent Societies spokesman Jean-Luc Martinage said.
"But we'll have to swiftly bring relief supplies from our regional disaster response center based in Panama," he said.
The most urgent needs were search and rescue teams, field hospitals, emergency health and shelter, water and logistics and telecommunications, he said.
The UN's World Food Programme (WFP) said it would send planes with emergency food aid from El Salvador and Panama.
"Food is of vital importance, especially after the second or third days," WFP spokesman for Latin America and the Caribbean, Alejandro Lopez-Chicheri, told Spanish public radio from Panama.
France said it would dispatch within hours plane-loads of rescue staff and humanitarian aid from its territories of Martinique and Guadaloupe, as well as from France.
Around 130 French emergency staff should arrive in the capital Port-au-Prince within 24 hours, the interior ministry said. Italy also prepared a transport plane to carry in a field hospital and emergency medical team.
The Netherlands immediately released 2 million euros (US$2.9 million) in aid and said it was looking into the possibility of sending rescue teams.
"The gravity of the situation seems to be like that in Southeast Asia after the tsunami in 2004," Cooperation and Development Minister Bert Koenders said.
Germany offered 1 million euros in immediate humanitarian aid and said it was also looking into other ways that it could help.
Canada said it was identifying the humanitarian needs and Japan said it was gathering information to prepare for an intervention.
A host of other countries, including Australia, Colombia, Venezuela and Mexico, said they were also prepared to despatch help.
As the massive relief efforts mobilized, Pope Benedict XVI urged a generous response to the "tragic situation."
"I appeal to the generosity of all to ensure our concrete solidarity and the effective support of the international community for these brothers and sisters who are living a time of need and suffering," he said at a general audience.
Comments will be moderated. Keep comments relevant to the article. Remarks containing abusive and obscene language, personal attacks of any kind or promotion will be removed and the user banned. Final decision will be at the discretion of the Taipei Times.