Obama blames al-Qaeda affiliate for airliner attack
WIDER CONTEXT Republicans have criticized Obama for not adopting Bush's war on terror. However, the president said he would do 'whatever it takes to defeat' al-Qaeda
US President Barack Obama yesterday for the first time accused an al-Qaeda affiliate of arming and training a young Nigerian man for a thwarted suicide mission to blow up a US airliner.
Obama, in his weekly radio and video address, promised to hold the group, al-Qaeda in the Arabian Peninsula, to account for the attack, declaring the US was at war with a "far-reaching network of violence and hatred."
The president's vacation in his home state of Hawaii has been interrupted by the ramifications of the failed attack on a Northwest jet heading for Detroit on Christmas Day.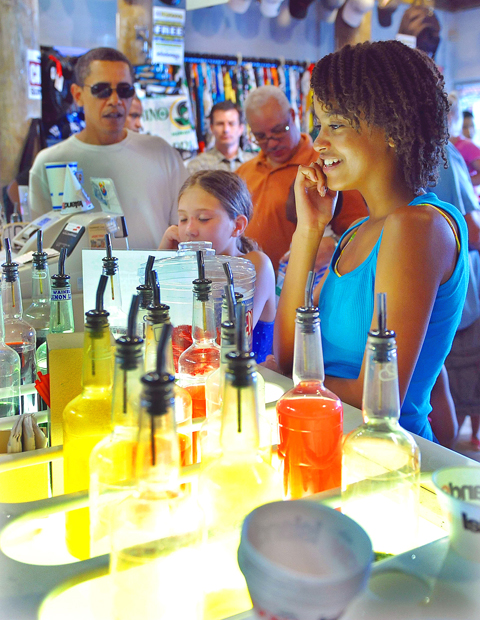 US President Barack Obama, left, looks on as his daughter Malia waits for an order of shaved ice at Island Snow store in Kailua, Hawaii, yesterday.
PHOTO: AFP
Obama has reviewed preliminary results of probes he has ordered into the attack, and said details were becoming clear about the 23-year-old Nigerian suspect Umar Farouk Abdulmutallab.
"We know that he traveled to Yemen, a country grappling with crushing poverty and deadly insurgencies," Obama said in his address, posted on the White House website early yesterday.
"It appears that he joined an affiliate of al-Qaeda, and that this group al-Qaeda in the Arabian Peninsula-trained him, equipped him with those explosives and directed him to attack that plane headed for America," Obama said.
Previously, US officials have not said publicly that the Northwest attack was the work of al-Qaeda, though had noted there was a "linkage" with the terror group.
The Arabian peninsula franchise of al-Qaeda had on Monday claimed the failed Christmas bombing of a jet in a statement picked up by US monitors.
Abdulmutallab is accused of trying to blow up the plane as it approached Detroit on a flight from Amsterdam, by setting off explosives stitched into his underwear. The attempt failed when he was stopped by passengers.
Obama said that because of past attacks by the al-Qaeda affiliate he had, even before the Christmas Day attempt, stepped up US cooperation with insurgency-scarred Yemen.
"Training camps have been struck, leaders eliminated, plots disrupted," he said in the address. "And all those involved in the attempted act of terrorism on Christmas must know — you too will be held to account."
Obama also put the Northwest attack in the context of the wider threat from terrorism, following complaints from some Republicans that he has not adopted the "war on terrorism" formulation of his predecessor, former US president George W. Bush.
He noted that it was almost a year since he came to office and delivered his inaugural address.
"On that day I also made it very clear-our nation is at war against a far-reaching network of violence and hatred, and that we will do whatever it takes to defeat them and defend our country, even as we uphold the values that have always distinguished America among nations," Obama said.
On Thursday, the US director of national intelligence, Dennis Blair, warned his staff that al-­Qaeda attacks were sure to get more "cunning."
"Al-Qaeda and its affiliate organizations, as well as individual suicide terrorists, have observed our defenses and are designing future attacks to circumvent them," he said. "These attacks will be even harder to uncover, interpret and stop."
In between recreational activities with his family and friends on Friday, Obama consulted top national security advisors to discuss two reviews of the thwarted bid to bomb the jet.
He spoke to National Security Council chief of staff Denis McDonough and his top anti-terror advisor John Brennan, a White House official said on condition of anonymity.
Angered by how narrowly tragedy was averted in a country still scarred by the Sept. 11, 2001, attacks, Obama was to spend the weekend poring over the preliminary reports of two probes he demanded into the Christmas Day attack.
The president plans to meet heads of intelligence agencies and relevant government departments on Tuesday in Washington to discuss the findings.
Obama has ordered one assessment of the no-fly list system and a separate probe into how Abdulmutallab sneaked an explosive device past security at Amsterdam airport onto a plane bound for the US.
Comments will be moderated. Keep comments relevant to the article. Remarks containing abusive and obscene language, personal attacks of any kind or promotion will be removed and the user banned. Final decision will be at the discretion of the Taipei Times.