Clashes mark anniversary of Greek teenager's death
Fresh clashes broke out yesterday between police and several hundred youths staging a second day of protests to mark a teenager's fatal shooting by police a year ago.
Police fired tear gas and arrested nine people after a group of youths hurled stones at the security cordon deployed to prevent further trouble after demonstrations around the country turned violent yesterday.
Masked youths hurled firebombs and chunks of marble at police during a march in Athens on Sunday. Police fired volleys of tear gas to disperse the youths in running street battles in the center of the capital as several thousand demonstrators commemorated the death of 15-year-old Alexandros Grigoropoulos.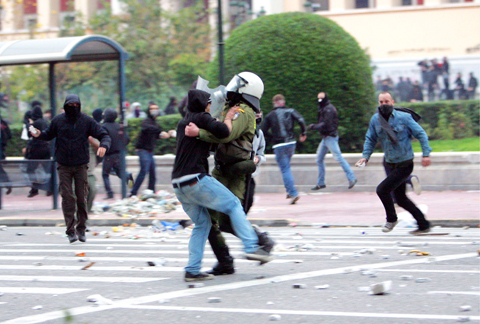 A protester clash with a riot policeman on the first anniversary of the killing of a teenager by police in Athens, Greece, on Sunday.
PHOTO: EPA
The teenager's death sent youths rampaging through cities for two weeks last December.
The rioters smashed bank windows, overturned trash bins and set them alight as they hurled rocks and fire crackers at riot police on Sunday.
Authorities said 177 people were detained for public order offenses in Athens and another 103 in the northern city of Thessaloniki, where a similar demonstration turned violent. Police also clashed with protesters in the southern city of Patras and the northwestern city of Ioannina.
At least five protesters and 16 police were injured in the violence, police said.
Police on motorcycles chased rioters amid scenes of chaos at Athens' main Syntagma Square, with youths punching and kicking officers pushed off their bikes. One policeman lost control of his motorbike struck and injured a female pedestrian, who was tended to by demonstrators until an ambulance arrived to transport her to a hospital.
At Athens University, masked protesters broke into the building and pulled down a Greek flag, replacing it with a black-and-red anarchist banner.
Authorities said the university's dean, who was injured when the youths broke into the building, was hospitalized in an intensive care unit.
As night fell, about 200 masked demonstrators were holed up in the neoclassical university building, smashing marble chunks off the university steps and ripping up paving stones from the courtyard to use as missiles against the police, before eventually leaving the building.
Clashes between demonstrators and police continued late into the night at another campus building, the Athens Polytechnic, after about 400 people gathered at the site where Grigoropoulos was shot dead.
The new Socialist government, which came to power in October and has been confronted with a surge in armed attacks by far-left and anarchist groups after last year's shooting, had vowed a zero-tolerance approach to violence.
Civil Protection Minister Michalis Chrisochoidis defended tougher tactics used by police, despite criticism from a left-wing opposition party which said the government's response had been heavy-handed.
"Police detentions, when justified, are not illegal in a democratic society. Neither is it illegal for judicial officials to press charges," the minister said.
Comments will be moderated. Keep comments relevant to the article. Remarks containing abusive and obscene language, personal attacks of any kind or promotion will be removed and the user banned. Final decision will be at the discretion of the Taipei Times.