US official says Taliban richer than al-Qaeda
The Taliban are in much stronger financial shape than al-Qaeda and rely on a wide range of criminal activities to pay for attacks on US and coalition forces in Afghanistan, a senior Treasury Department official said on Monday.
David Cohen, the department's assistant secretary for terrorist financing, said the extremist group extorts money from poppy farmers and heroin traffickers involved in Afghanistan's booming drug trade.
The Taliban also demand protection payments from legitimate Afghan businesses, he said during a speech at a conference on money laundering enforcement.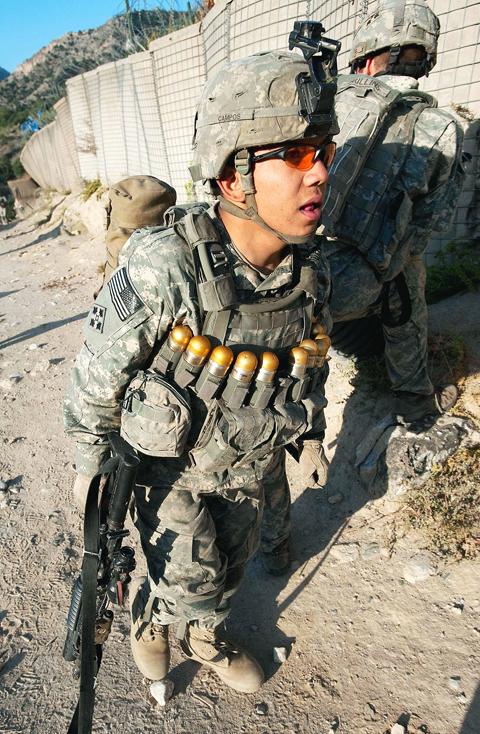 A US soldier returns to the Korengal Outpost after a mission to the nearby village of Laui Kalay in the remote Korengal Valley, Afghanistan, on Monday.
PHOTO: AFP
US President Barack Obama and his top advisers are discussing whether many more troops may be needed in the eight-year-old Afghanistan conflict. A critical part of the deliberations is whether the fight should be a more narrow one against al-Qaeda or a broader battle against the Taliban-led insurgency.
According to Cohen, al-Qaeda is a cash-strapped organization that is losing its influence. That condition is the product, he said, of a long-running effort by the US and its allies to cut off the terror group's sources of funding by targeting its deep-pocketed donors and interfering with its ability to move money.
In the first half this year, he said, al-Qaeda's leaders made four public appeals for money to bolster recruitment and training.
"We assess that al-Qaeda is in its weakest financial condition in several years, and that, as a result, its influence is waning," Cohen said at the conference, sponsored by the American Bankers Association and the American Bar Association.
But Cohen said that the situation could reverse quickly because multiple donors "who are ready, willing and able to contribute to al-Qaeda" still exist.
The Taliban, meanwhile, appear to be heading in the other direction despite an international effort to shut down the movement's cash supply. Drugs are a major moneymaker for the group.
Richard Holbrooke, the Obama administration's special envoy for Afghanistan and Pakistan, has said the Taliban get most of their cash from private benefactors in the Persian Gulf.
In related news, the head of Australia's Defense Force has admitted the military made a mistake when it said two Afghan policemen shot by Australian soldiers were not in uniform at the time.
But Air Chief Marshal Angus Houston said the Australian soldiers, who opened fire on the Afghans as they rode towards them on a motorcycle, did not know the men were police and were acting in self-defense.
Houston said the Australian military was wrong to state that neither man was wearing a uniform when they were shot at a checkpoint near the Tarin Kowt base in southern Afghanistan because one had been wearing a police shirt.
At the time, acting Chief of Joint Operations Command Air Vice Marshal Greg Evans said in a statement that the men "were not wearing uniforms and did not identify themselves as police members" ahead of the shooting.
Houston said late on Monday that the statement was wrong.
"I will admit that a mistake was made early on," he told reporters.
The Australian military is investigating the August incident in which one of the Afghans was shot 16 times and died and the other was wounded, Houston said, adding that checkpoint procedures were being reviewed.
Comments will be moderated. Keep comments relevant to the article. Remarks containing abusive and obscene language, personal attacks of any kind or promotion will be removed and the user banned. Final decision will be at the discretion of the Taipei Times.