Rescuers struggling in northern Philippines
Search and rescue teams yesterday struggled to reach areas of the northern Philippines cut off by storm-triggered landslides and flooding that have left more than 600 people dead, officials said.
In the heavily-damaged northern province of Pangasinan, many towns remained under water while landslides had virtually cut off mountainous communities from rescuers, disaster relief officials said.
Social Welfare Secretary Esperanza Cabral said the government had sent tonnes of food, medicines and clothes to a military base in the north, but delivery to affected communities was slow.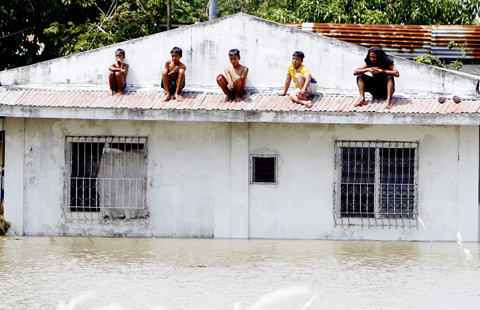 Residents gather on the rooftop of a partially submerged house in the flood-hit town of Rosales in Pangasinan province, Philippines, yesterday.
PHOTO: REUTERS
"There is a significant number of people affected," Cabral said. "Our problem is getting to them."
She said helicopters have been dropping food packs in Pangasinan, a province of 2.5 million that has been submerged in deep waters for the past three days.
Four US military helicopters were due to airlift 10 tonnes of food to Baguio, a popular mountain resort that has been isolated after deadly landslides triggered by Tropical Storm Parma, spokesman Captain Jorge Escatell said.
"It's going to be an all-day mission ... we are trying to get some help out there," he said.
There have been varying reports of casualties, but the police in the Cordillera Administrative Region, which includes Baguio and several provinces hit with deadly landslides, said the death toll there alone climbed to 275 as more bodies were dug up from landslides yesterday.
The National Disaster Coordinating Council in Manila however placed the official toll at 193 from Parma, which finally blew out into the South China Sea late on Friday after pummeling northern Luzon for a week.
Altogether the death toll from Parma and Tropical Storm Ketsana, which killed 337 in Manila and surrounding areas, now stands at more than 636, with fears the toll could rise, officials said.
Ketsana triggered the worst flooding in Manila and nearby areas in four decades on Sept. 26, and many areas still remain flooded two weeks later.
Both storms affected more than 6 million people, with more than 300,000 people remaining in evacuation camps.
Many highways remained impassable to all types of vehicles in the provinces of Tarlac and Pangasinan, with flood waters unable to empty out into the Lingayen Gulf to the west of Luzon because of high tides.
Television footage shot by rescuers showed houses, malls and factories submerged in a vast sea of brown water, with rescuers plucking survivors from trees and rooftops for the past two days.
The flooding was largely because of heavy rains and water released by the authorities from two dams that were in danger of bursting.
In the Cordillera region, meanwhile, roads and bridges were destroyed by a deadly cocktail of mud and rocks, while houses lay in ruins. Mud-streaked residents carrying belongings were shown dangerously negotiating a muddy cliff that was once a mountain pass.
Parts of Baguio, where Philippine President Gloria Arroyo maintains a retreat house, were also flooded with run-off water from the slopes.
Cabral said she expected the number of people in evacuation camps in the north to rise significantly in the coming days.
Comments will be moderated. Keep comments relevant to the article. Remarks containing abusive and obscene language, personal attacks of any kind or promotion will be removed and the user banned. Final decision will be at the discretion of the Taipei Times.