US starting dialogue with Myanmar junta
'BETTER RELATIONS' US President Barack Obama's administration said that although talks and pressure had not worked yet, fresh engagement might bring 'new thinking'
The US said on Monday it was starting a dialogue with Myanmar to try to open up the military-led nation, but insisted it would keep sanctions until the regime makes progress on democracy.
Wrapping up a months-long policy review on Myanmar, US President Barack Obama's administration said that while neither dialogue nor pressure had worked thus far, fresh engagement might bring "new thinking" and reforms by the junta.
"For the first time in memory, the Burmese leadership has shown an interest in engaging with the United States and we intend to explore that interest," said Kurt Campbell, assistant secretary of state for Asia.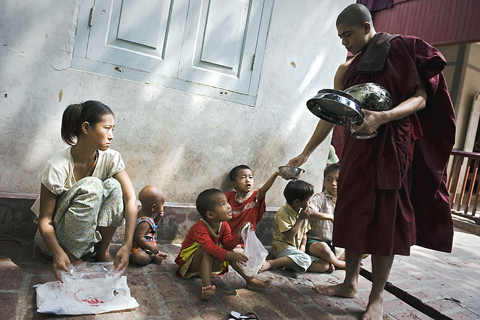 A Buddhist monk, right, offers some of his food, donated to him by residents at dawn, to poor people sitting outside the Maha Gent Nar Youn Monastery in Mandalay, Myanmar, yesterday.
PHOTO: AFP
"We intend to begin a direct dialogue with Burmese authorities to lay out the path towards better relations," Campbell told reporters.
He said the Obama administration — which has made reaching out to arch US foes such as Iran and Cuba a key policy — wanted a "sustained process of interaction" with Myanmar after only sporadic contact in recent years.
But Campbell said the US would not immediately ease sanctions and would press for the unconditional release of democracy icon Aung San Suu Kyi, who has spent most of the past two decades under house arrest.
"Lifting sanctions now would send the wrong signal," Campbell said. "We will tell the Burmese that we will discuss easing sanctions only if they take actions on our core concerns."
Campbell called on Myanmar to free all political prisoners and end conflicts with ethnic minorities and said the US also reserved the right to expand sanctions depending on events.
Aung Din, a former political prisoner who now heads the US Campaign for Burma, gave a guarded reaction to the policy review, saying that Washington should tighten sanctions against Myanmar until it ends human rights violations.
"The more leverage the US holds, the better for the engagement," Aung Din said.
"We also hope that US engagement with the regime would not be an open-ended process, but with a reasonable time-frame and clear benchmarks," he said.
The head of the US Commission on International Religious Freedom, which has been critical of Myanmar's rights record, said that the administration should not talk to the junta until it sets exact goals in coordination with US allies.
"Only coordinated sanctions and coordinated diplomacy can convince Burma's military that they have lost the fight with world opinion and need a democratic transformation," said Leonard Leo, chair of the government advisory group.
Campbell said he would consult widely with US allies and Myanmar's neighbors — including China, which has been the key commercial and military backer of the junta.
At the UN last week, US Secretary of State Hillary Clinton briefed nations interested in Myanmar about the policy shift.
She said the "basic objectives" had not changed but that the US was seeking engagement rather than confrontation.
Burmese Prime Minister General Thein Sein on Monday demanded an end to economic sanctions in an address to the UN General Assembly.
"Sanctions are being employed as a political tool against Myanmar and we consider them unjust," said Thein Sein, the highest-ranking Myanmar official to address the General Assembly in 14 years. "Such acts must be stopped."
The US and the EU impose sweeping sanctions including on Myanmar's lucrative gem industry.
They tightened measures after the junta crushed protests led by Buddhist monks two years ago, killing at least 31 people.
Thein Sein met in New York with US Senator Jim Webb, a strong advocate for a new course on Myanmar, who paid a rare visit to the country last month.
Webb hailed the new policy on Myanmar as a signal "that we have the potential to change the dynamic of this important relationship."
Campbell said that the US would talk to Myanmar about elections scheduled next year, but for the time being was "skeptical" about the vote.
Comments will be moderated. Keep comments relevant to the article. Remarks containing abusive and obscene language, personal attacks of any kind or promotion will be removed and the user banned. Final decision will be at the discretion of the Taipei Times.