Peace prize-winning mediator warns of civil war in Honduras
An international mediator warned of civil war in Honduras after the failure of talks between representatives of the country's rival governments.
Talks broke down late on Sunday after representatives of the de facto rulers rejected a proposal by mediator Oscar Arias, the Costa Rican president, that ousted leader Manuel Zelaya return as president in charge of a "reconciliation" government.
Arias, who has won a Nobel Peace Prize for his work resolving conflict in Central America, warned that Honduras was at the brink of "civil war and bloodshed."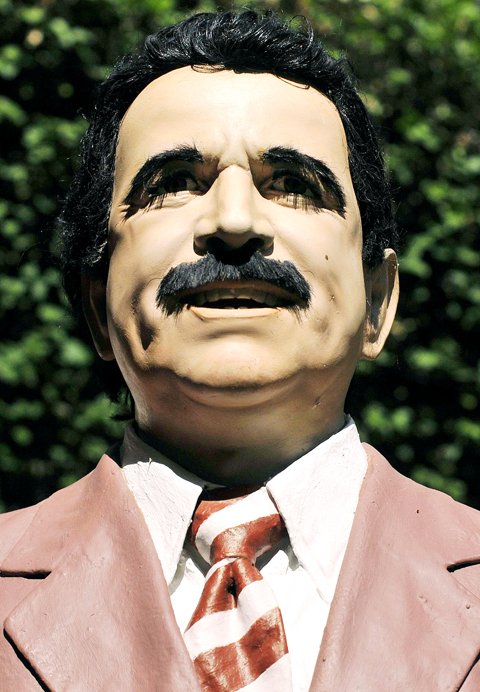 A life-sized statue of ousted Honduran president Manuel Zelaya stands among statues of the country's founding fathers at the Presidential House in Tegucigalpa on Sunday. Officials from the interim government showed the statue and a bust of Zelaya that they said were found in a locked room inside the premises.
PHOTO: EPA
"We have started organizing internal resistance for my return to the country," Zelaya told reporters in Nicaragua, where he has been based since he was forced out by the army on June 28.
Arias pleaded for the talks to resume after a 72-hour break, but there was no sign his appeal would be heeded, though sources close to the negotiations said the two sides might meet again on Wednesday.
Neither Zelaya nor the head of the de facto government, Honduran congress leader Roberto Micheletti, were in Costa Rica for the talks.
Micheletti's representatives took exception to Arias's use of the words "civil war." Its deputy foreign minister, Martha Lorena Alvarado, accused the Costa Rican president of "taking us towards a situation of near-panic" with the phrase.
She welcomed the call for 72 hours' reflection, but ruled out allowing Zelaya's return as president.
Micheletti's government has promised to arrest Zelaya if he does return and prosecute him for treason and 17 other charges.
Zelaya's supporters in Honduras, however, said they would intensify their protests pressing for his reinstatement. They called a strike for Thursday and Friday.
The leader of the National Front Against the Coup d'Etat, Berta Caceres, said her group opposed Arias's plan for a reconciliation government that included what she termed "the putschists."
The secretary-general of the Organization of American States, Jose Miguel Insulza, said his body would press Honduras's de facto government to recognize "this is a coup that failed."
The OAS would hold a meeting Monday on Honduras, he said. Zelaya has vowed to go back to Honduras with or without agreement from his rivals.
He tried to fly back on July 5 on a plane borrowed from his ally, Venezuelan President Hugo Chavez, but aborted the landing when Honduran military vehicles parked on the runway.
Rumors suggested he might next try to cross the border from Nicaragua.
Many Honduran lawmakers, judges and military leaders believe Zelaya triggered the crisis by organizing a June 28 referendum, without congressional approval, on changing the Constitution.
Comments will be moderated. Keep comments relevant to the article. Remarks containing abusive and obscene language, personal attacks of any kind or promotion will be removed and the user banned. Final decision will be at the discretion of the Taipei Times.