Robert McNamara dies at age of 93
'WE WERE WRONG': Long criticized for his role in the Vietnam War, the former 'whiz kid' completed a long turnaround over the years, culminating in a mea culpa
Robert McNamara, the brainy Pentagon chief who directed the escalation of the Vietnam War despite private doubts the war was winnable or worth fighting, died on Monday at 93.
McNamara revealed his misgivings three decades after the US defeat that some called "McNamara's war."
"We of the Kennedy and Johnson administrations acted according to what we thought were the principles and traditions of our country. But we were wrong. We were terribly wrong," McNamara said in 1995, the year his best-­selling memoir appeared.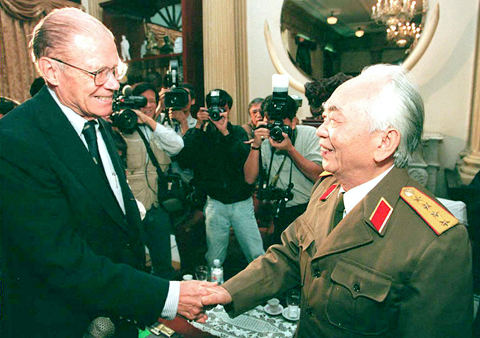 Former US secretary of defense Robert McNamara, left, shakes hands with Vietnamese General Vo Nguyen Giap, who was Vietnamese communist army commander in chief during the Vietnam War, on Nov. 9 in Hanoi, Vietnam.
PHOTO: AFP
McNamara died at 5:30am at his home, his wife Diana said. She said he had been in failing health for some time.
Closely identified with the war's early years, McNamara was a forceful public optimist. He predicted that US intervention would enable the South Vietnamese, despite internal feuds, to stand by themselves "by the end of 1965." The war ground on until 1975, with more than 58,000 US deaths.
Lawyerly and a student of statistical analysis, McNamara was recruited to run the Pentagon by president John F. Kennedy in 1961 from the presidency of the Ford Motor Co — where he and a group of colleagues had been known as the "whiz kids."
He stayed in the defense post for seven years, longer than anyone else since the job's creation in 1947. He left on the verge of a nervous breakdown and became president of the World Bank. In the new post, he threw himself into the intricacies of international development and argued that improving lives was a more promising path to peace than building up arms and armies.
McNamara was a distinctive figure, with frameless glasses and slicked-back hair. Anti-war critics ridiculed him as an out-of-touch technocrat and made much of the fact that his middle name was "Strange." Simon and Garfunkel worked his name into a ditty about an overbearing government, and he once had to flee an appearance at Harvard through underground utility tunnels.
By the end of his Pentagon tenure, McNamara had come to doubt the value of widespread US bombing, and he was fighting with his generals. US president Lyndon Johnson lost faith or patience in him; McNamara would later write that he didn't know if he quit or was fired.
In the Kennedy administration, McNamara was a key figure in both the disastrous Bay of Pigs invasion of April 1961 and the Cuban missile crisis 18 months later. The missile episode was the closest the world came to a nuclear confrontation between the Soviet Union and the US, and historians have pointed to McNamara's role in steering internal debate away from a US airstrike.
Reticent, McNamara long resisted offers to give a detailed accounting of his role in Vietnam.
McNamara's eventual mea culpa won him admiration from some former opponents of the war. Others said it was not enough, and three decades too late.
McNamara's book, In Retrospect: The Tragedy and Lessons of Vietnam, appeared in 1995.
Comments will be moderated. Keep comments relevant to the article. Remarks containing abusive and obscene language, personal attacks of any kind or promotion will be removed and the user banned. Final decision will be at the discretion of the Taipei Times.