Berlusconi eager to welcome Netanyahu
Italian Premier Silvio Berlusconi likes to cast himself as an international statesman, touting his warm personal ties with Russian Prime Minister Vladimir Putin and former US president George W. Bush and his efforts to raise Italy's profile on the world stage.
Less noticed is his friendship with Israel, reversing a decades-long pro-Arab tilt by Italian governments and making Italy perhaps the Jewish state's best friend in Europe.
It's a special relationship that has yielded recognition: When Israeli Prime Minister Benjamin Netanyahu set out yesterday on his first official visit to Europe since his election in March, Italy was to be his first stop before he heads to France.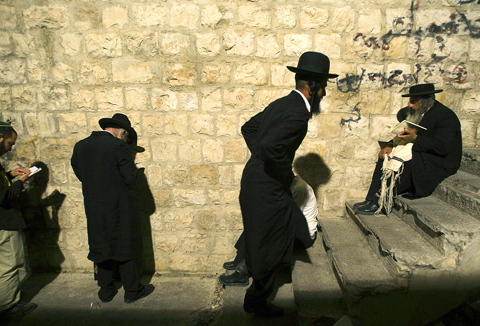 Ultra-orthodox Jews pray at Joseph's Tomb in the West Bank city of Nablus yesterday. The Israeli army yesterday allowed hundreds of ultra-orthodox Jews to visit the tomb, a holy shrine considered by many Jews to be the burial place of the biblical patriarch.
PHOTO: REUTERS
For Israel the stance of Berlusconi's Italy offers a hospitable window into the EU — where Israeli governments of the right, as Netanyahu's, have historically found little cheer. Berlusconi, for his part, gains a better defined international profile and perhaps some points in the US, which has been far more understanding of Israel than most European nations over the years.
Last month, hardline Israeli Foreign Minister Avigdor Lieberman, who has raised diplomatic eyebrows by his anti-Arab statements, made Rome his first stop for his European tour as well.
The billionaire premier, notorious for his headline-making gaffes, was honored by a Jewish group a few years ago with its "distinguished statesman award," despite protests from three Nobel Prize winners.
Berlusconi's pro-Israel stance stems in part from his staunch pro-Americanism. It may also be a way to legitimize political allies who come from neo-fascist backgrounds, using Israel as a sign of their transformation into ­mainstream conservatism.
The Italian leader has backed pro-Israel rallies and has supported Israel's right to defend itself during its recent armed conflict with Hamas in Gaza — while other European leaders tended to view the hundreds of fatalities Israel caused in its retaliation for rocket attacks as disproportional.
The Netanyahu trip comes less than two weeks after the Israeli leader finally gave qualified endorsement to the concept of a Palestinian state. He will likely be sounding out Berlusconi and French President Nicolas Sarkozy to see if they are on board with the caveats he placed on such a state, drawing sharp Palestinian criticism, such as the demand that it be demilitarized and recognize Israel as a "Jewish state."
In his June 14 speech Netanyahu also said the Palestinians had to give up any notion of refugees who left what is now Israel — or their millions of descendants — resettling in their former homes.
He will be meeting tomorrow in Paris with US President Barack Obama's special Middle East peace envoy, former senator George Mitchell.
Sandro De Bernardin, a Foreign Ministry official and former Italian ambassador to Israel, said the fact that Netanyahu is beginning his European tour in Rome attests to the good relations between the two countries.
"It is meaningful that Netanyahu begins his European tour in Italy," he said. "It underlines that the Israeli government looks at the role that Italy can have in a special way and also [underlines] the ­quality and substance of our bilateral relations."
Israeli media gave extensive and favorable coverage of Italy's decision to join the US, Israel and a few other EU countries in boycotting a UN conference on racism in Geneva in April that was marred by anti-Semitic rhetoric.
"He fully supports Israel's security requirements, he supports Israel's eventual entry into the EU as a full member — he said so during a visit here," Israeli Foreign Ministry spokesman Yigal Palmor said of Berlusconi.
Comments will be moderated. Keep comments relevant to the article. Remarks containing abusive and obscene language, personal attacks of any kind or promotion will be removed and the user banned. Final decision will be at the discretion of the Taipei Times.