Iraqi leaders rally following killing of Sunni lawmaker
'IT IS OUR DUTY' Some politicians suspect that Saddam Hussein loyalists may have been behind the slaying of Harith al-Obeidi, meant to undermine the government
The Iraqi government on Saturday blamed al-Qaeda in Iraq for killing a prominent Sunni lawmaker as leaders across the sectarian divide rallied together, deploring the murder and pledging to prevent a new wave of religious violence that once plunged the country to the brink of civil war.
Harith al-Obeidi, leader of the largest Sunni bloc in parliament, and his bodyguard were shot dead on Friday as they left a Baghdad mosque after prayers. The gunman died when he triggered a grenade as he was chased by police and mosque guards.
No group claimed responsibility for the brazen attack, which could threaten efforts to reconcile the country's rival ethnic and religious communities.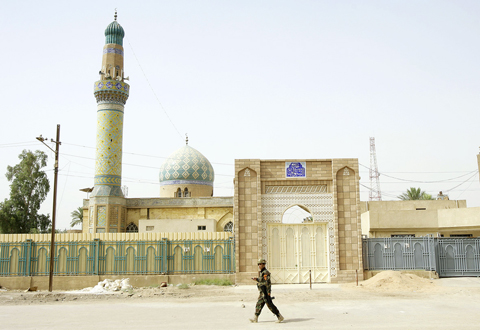 A soldier walks in front of a mosque where Sunni lawmaker Harith al-Obeidi was killed on Friday in Baghdad, Iraq.
PHOTO: AFP
Interior Ministry spokesman Major General Abdul-Karim Khalaf said evidence so far pointed to al-Qaeda in Iraq, a Sunni terror network that frequently targets fellow Sunnis who speak out in favor of national reconciliation.
Al-Obeidi was also an outspoken champion of the rights of detainees, most of whom are Sunnis but also include Shiite militants.
The day before his death, al-Obeidi called on parliament to summon officials from the interior and defense ministries to respond to the allegations of widespread beatings and torture in Iraqi jails.
That raised suspicion that his slaying may have been linked to his campaign on behalf of detainees. Some politicians suggested Saddam Hussein loyalists may have been involved in a bid to undermine the government.
Whoever was responsible, the slaying of a figure who had been prominent in Sunni political circles for years raised the specter of renewed tit-for-tat sectarian killings in a culture steeped in a tradition of vendetta killings.
Fears of sectarian warfare have increased with a series of bombings this year against Shiite civilians. A car bomb Wednesday killed about 30 people in a small Shiite town near Nasiriyah that had largely been spared of violence.
Mindful of the dangers, the Iraqi parliament convened a special session on Saturday to honor al-Obeidi with a nationally televised funeral service at Baghdad's Convention Center in the guarded Green Zone.
Speaker after speaker — Shiites, Sunnis and Kurds — took the podium to express their outrage over the killing, praise al-Obeidi for efforts on behalf of reconciliation and pledge to prevent a new sectarian war.
"Terrorism always targets those active people who are able to bring change," said Ali al-Adeeb, a Shiite lawmaker with close ties to Iraqi Prime Minister Nouri al-Maliki. "In our political project, we seek change while terrorism wants to promote the former regime and the continuation of dictatorship."
Al-Adeeb called on religious Muslims "to stand firm against a culture that encourages violence in the name of Islam."
Al-Adeed said prison staff included some Saddam loyalists, adding "it is our duty" to root them out "so that nothing of the former regime remains."
Shiite lawmaker Jalaluddin al-Saghir urged Iraqis to unite against a resurgence of violence, which has fallen sharply over the past two years.
"They think they can mess with the political process and those supporting it when the American forces leave," he said. "We have to improve the security forces ... to make it impossible for such killers and criminals to bring us back to square one of civil and sectarian wars."
Sunni lawmaker Dhafir al-Ani applauded al-Obeidi's political moderation.
"Al-Obeidi established a school of moderation inside the parliament," he said. "He expressed his position with courage and without any fear."
Following the services, an Iraqi military honor guard carried caskets of al-Obeidi and his bodyguard to the main Sunni cemetery near the Abu Hanifa mosque in Baghdad.
Al-Obeidi assumed leadership of the Iraqi Accordance Front — which holds 44 seats in the 275-member parliament — in May after his predecessor, Ayad al-Samarraie, became the parliamentary speaker. He was the fourth Iraqi member of parliament to be killed since the US-led invasion in March 2003.
Also on Saturday, the US military announced that a US soldier was killed by a roadside bomb the day before in Baghdad. At least 4,312 members of the US military have died in Iraq since the war started.
The US embassy said two more US contractors had been released from Iraqi custody, but two others remained in detention.
Comments will be moderated. Keep comments relevant to the article. Remarks containing abusive and obscene language, personal attacks of any kind or promotion will be removed and the user banned. Final decision will be at the discretion of the Taipei Times.