Obama commemorates D-Day victory
'UNIMAGINABLE HELL': Jim Norene, who took part in the invasion 65 years ago, returned to Normandy for the ceremony. He died in his sleep the night before
US President Barack Obama honored the valiant dead and the "sheer improbability" of their D-Day victory, commemorating Saturday's 65th anniversary of the decisive invasion.
The young US commander in chief, speaking at the American cemetery after the leaders of France, Canada and Britain, held up the sacrifices of D-Day veterans and their "unimaginable hell" as a lesson for modern times.
"Friends and veterans, what we cannot forget — what we must not forget — is that D-Day was a time and a place where the bravery and selflessness of a few was able to change the course of an entire century," he said.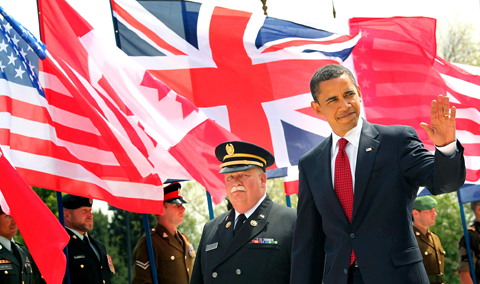 US President Barack Obama waves as he walks with Normandy American Cemetery Superintendent Daniel Neese at a memorial service at the Normandy American Cemetery in Colleville-sur-Mer, France, on the 65th anniversary of the D-Day landings on Saturday.
PHOTO: AP
"At an hour of maximum danger, amid the bleakest of circumstances, men who thought themselves ordinary found it within themselves to do the extraordinary," he said.
This D-Day anniversary assumed special significance because veterans of the battle are reaching their 80s and 90s and their numbers are dwindling. One American veteran, Jim Norene, who fought with the 101st Airborne Division, came back for Saturday's ceremony, but died in his sleep on Friday night.
"Jim was gravely ill when he left his home and he knew that he might not return," Obama said. "But just as he did 65 years ago, he came anyway. May he now rest in peace with the boys he once bled with, and may his family always find solace in the heroism he showed here."
Joined by French President Nicholas Sarkozy, British Prime Minister Gordon Brown and Canadian Prime Minister Stephen Harper, Obama stopped first at the gray granite visitors center and then at an overlook where the leaders talked at length with two D-Day veterans waiting at the top of the once-bloody bluffs.
The sunny sky, crashing waves, lush vegetation and pleasant breezes created a scene of seaside tranquility at the spot one D-Day veteran recalled as mostly "darkness and confusion."
"I lost a lot of pals on D-Day," said Norman Coleman of Manchester, England.
He marked the day by visiting several other burial grounds scattered around the region, where soldiers were buried as they fell in pitched battles over 12 decisive weeks.
Julien Marchand, a 40-year-old carpenter, spontaneously embraced Coleman in an outburst of gratitude on the streets of Caen, nearly knocking over the elderly veteran. "Thank you, thank you, merci," Marchand said.
The ceremony at Omaha Beach, on what is technically US soil at Colleville-sur-Mer, took place under a US flag flying from a metal pole hundreds of feet high. The crowd of thousands spread far back from the leaders' platform and colonnade engraved with these words: "This embattled shore, portal of freedom, is forever hallowed by the ideals, the valor and the sacrifice."
With clustAers of young people sprinkled among the graying heads and wheelchairs, the audience spilled down the path that cut between some of the nearly 10,000 perfectly aligned white crosses that mark the graves of US dead. A mother breast fed an infant on the lawn.
French adolescent girls whispered excitedly about the chance to see Obama.
Issac Phillips, 84, recalled having little idea what he was getting into in the dark early morning hours of June 6, 1944, as a private in the US 22nd Infantry regiment who crossed the English Channel and landed at nearby Utah Beach.
"The water was cold, the boat was going like this" — his arms spiked up and down — "and some of them fell in the water. We are all close together and we can't move very much at all. They say if you stay close together, you don't get seasick. You get seasick anyway."
Allied forces charged the shores of five beaches on France's northern coast, facing German land mines, machine guns and heavy artillery. Some 215,000 Allied soldiers, and roughly as many Germans, were killed or wounded during D-Day and the ensuing three months before the Allies captured Normandy, opening a path toward Paris that eventually took them to Germany and victory over the Nazis.
Comments will be moderated. Keep comments relevant to the article. Remarks containing abusive and obscene language, personal attacks of any kind or promotion will be removed and the user banned. Final decision will be at the discretion of the Taipei Times.