Peru exhumes mass grave from Maoist war
Forensic experts began excavating a mass grave on Monday to recover and identify the remains of some 50 people believed to have been killed by soldiers nearly 25 years ago in a dirty war against Maoist guerrillas.
About 200 relatives of the victims gathered at the town cemetery, chanting "We demand justice," as the exhumation began on orders of the local prosecutor's office.
A lawyer for the relatives, Karim Ninaquispe, said the victims went missing in July and August of 1984 in this remote town 550km southeast of Lima in Ayacucho, Peru's poorest province and the birthplace of an insurgency by the Shining Path, a Maoist group.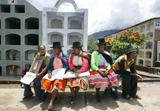 Relatives of disappeared people sit as they watch forensic experts exhume human remains from a mass grave in Huanta, Peru, on Monday. Forensic experts started digging up the bodies of 49 people in southern Ayacucho Province where Peru's Navy allegedly tortured and executed suspected guerrillas and sympathizers in a clandestine detention center in 1984. The alleged executions occurred during the bloody standoff between Peru's military and Maoist Shining Path guerrillas.
PHOTO: AP
They were taken to Huanta's municipal stadium, where the Peruvian navy had established a base, she said.
"In that place they were tortured, executed and their bodies were later made to disappear," she said.
"There is sufficient evidence to affirm that those who disappeared between July and August of 1984 are the ones in this cemetery," she said.
Among those believed to be buried there was journalist Jaime Ayala Sulca, who had reported on the disappearance of peasants in the region at the hands of the military.
One peasant woman, Juana Paredes, said that her husband Cirilo Barboza Sanchez was also among the victims whose tortured bodies ended up in the mass grave.
"They arrested him without charge and took him to the stadium, where they tortured and killed him," she said between sobs. "Someone told me that they then put his body in a bag and buried him here."
One man, Maximiliano Lopez Medina, recalled how his sister, Graciela, was taken by force in July 1984, never to be seen again. His story mirrored one told by Teresa Araujo Quispe about the disappearance without a trace of her husband, Victor Huamannaupa.
"I hope that I find his remains here so that I can give him a Christian burial and so that finally, after all this time, I will be able to sleep peacefully again," she said.
The exhumation is the first of its kind this year by authorities investigating crimes committed during the 1980 to 2000 internal war.
Forensic experts will take DNA samples from the remains and hope to identify them by the end of the year.
Peru's Truth and Reconciliation Commission estimates that there are more than 4,000 secret graves holding victims from the conflict. Nearly 70,000 people were either killed or went missing during that period, government figures showed.
The commission concluded in a 2003 report that those buried in Huanta were victims of a massacre perpetrated by the Peruvian military.
Comments will be moderated. Keep comments relevant to the article. Remarks containing abusive and obscene language, personal attacks of any kind or promotion will be removed and the user banned. Final decision will be at the discretion of the Taipei Times.