Wu Bangguo rejects Western democracy
ONE PARTY The National People's Congress chief turned up the rhetoric in Beijing even as a security clampdown was heightened in largely Tibetan areas
China will never become a Western-style democracy, the head of the country's rubber-stamp parliament said yesterday, in an apparent response to renewed calls for political reform from inside and outside the country.
In an address to the annual nine-day meeting of the National People's Congress (NPC), Wu Bangguo (吳邦國), chairman of the NPC's Standing Committee, laid out extensive arguments seeking to justify China's one-party communist system and draw clear distinctions with multiparty political systems in the West.
China, he said, would never introduce a system of "multiple parties holding office in rotation," nor would it allow a separation of powers among the legislative, executive and judicial branches of government, or a legislature made up of lower and upper houses.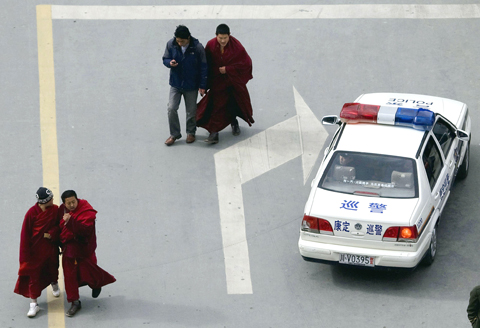 A policeman in a patrol car looks out at Tibetan monks on the streets of Kangding, Ganzi Prefecture, Sichuan Province, yesterday as Chinese authorities widened a lockdown of predominantly Tibetan areas ahead of key anniversaries. Ganzi prefecture has been closed to all foreigners.
PHOTO: AP
Wu's remarks emphasizing the primacy of the "path of socialism with Chinese characteristics" appeared to be a rebuttal to critics at home and abroad calling for greater liberalization, including legalizing opposition parties and direct elections for legislative bodies.
His remarks on the issue were considerably longer than in last year's address, in which he made only passing reference to China's rejection of separation of powers and a bicameral system.
Wu also appeared to rule out moves toward greater judicial independence, saying the Communist Party would continue to dictate standards and priorities that it expected courts and prosecutors to adhere to.
"The Western model of a legal system cannot be copied mechanically in establishing our own," Wu said.
His address enumerated the work of the NPC's Standing Committee, the 74-member body that handles legislative business when the almost 3,000-member NPC is not in session.
Wu said China aimed to establish a "legal system of socialism with Chinese characteristics" by next year, achieved through enacting and revising legislation rather than structural adjustments.
He said top legislative work this year would focus on drawing up laws covering social programs such as health care, pensions and education.
Politically sensitive anniversaries in China this year could generate protests and dissent, adding to government worries about unrest as bankruptcies and unemployment rise because of slowing exports amid the global financial crisis.
This week marks the 50th anniversary of the fleeing of Tibetan spiritual leader the Dalai Lama into exile after an abortive uprising against Chinese rule. It also marks the first anniversary of violent Tibetan protests in Lhasa and elsewhere.
June 4 will mark 20 years since the military crushed student-led, pro-democracy protests around Tiananmen Square.
And on Oct. 1, Beijing will hold a military parade to mark the 60th anniversary of Communist China's founding. Dissidents could use the day to demonstrate for political reforms.
Wu invoked the spirit of reformist paramount leader Deng Xiaoping (鄧小平), who ordered the 1989 crackdown on the students, citing his saying that without the Party a country as large as China "would be torn by strife and incapable of accomplishing anything."
BOMBS
Meanwhile, two police cars were damaged by homemade bombs in western Qinghai Province, Xinhua news agency reported yesterday, as the government widened its security lockdown and sealed off Tibetan areas to foreigners.
Xinhua did not give a reason for the blasts, which took place at 2am after police clashed with several people while trying to check a lumber truck.
Police have increased checks on vehicles in places with minority Tibetan populations, including Qinghai.
No fatalities were reported, and it was not known if the blasts were connected with the tensions over Tibet, but the checkpoints and closures are part of a series of increasingly strict measures taken by Beijing to quash any dissent this week.
Convoys of armored vehicles and military trucks have in recent weeks crisscrossed the mountain roads of Tibet and other parts of China's volatile far west, which saw pockets of unrest after the Lhasa riots. Police and troops have amassed in Tibetan communities.
SHUT OFF
In Sichuan's Ganzi Prefecture, where some of the most violent protests took place last year, officials said they received an emergency notice yesterday from the provincial government that Ganzi was now shut off to all foreigners. Similar blocks have been issued in Tibetan areas in Gansu Province.
"There is a special situation and we hope you can leave as soon as possible," Zhang Lijuan of the Ganzi Prefecture foreign affairs office told reporters in Kangding, where the Ganzi prefecture government is based. "Normally, this is an open place and we would welcome you. But because of this special situation, it's not convenient."
The streets of Kangding were busy yesterday, with many residents shopping and working as normal. Police cordoned off traffic around the area in front of the town's main square, where riot police and machine gun-toting soldiers now regularly march past.
Ganzi Prefecture, known for its strong sense of Tibetan identity and nationalism, is home to the Tongkor monastery, where rights groups say skirmishes broke out last April when Chinese officials demanded that monks denounce the Dalai Lama.
In Beijing, a top police official said China had tightened border controls in Tibet for fear of potential disruptions by supporters of the Dalai Lama, Xinhua said.
"We have made due deployment and tightened controls at border ports, and key areas and passages along the border in Tibet," Fu Hongyu, political commissar of the Ministry of Public Security Border Control Department, was quoted as saying.
Also See: Fifty years on, Tibet still a US conundrum
Comments will be moderated. Keep comments relevant to the article. Remarks containing abusive and obscene language, personal attacks of any kind or promotion will be removed and the user banned. Final decision will be at the discretion of the Taipei Times.