ANALYSIS: Clinton reaches out to the world
A seasoned campaigner for high political office, US Secretary of State Hillary Clinton worked the crowds in Asia on her maiden tour in office, making good on a promise to reach out to the world.
And though she is a tough competitor who narrowly lost the race for the US presidency last year, Clinton proved a hit with many when she showed her softer side.
Appearing at a university campus in Tokyo, she charmed and inspired her audience with self-deprecating jokes about her roller-coaster public life and lofty talk about the planet's future.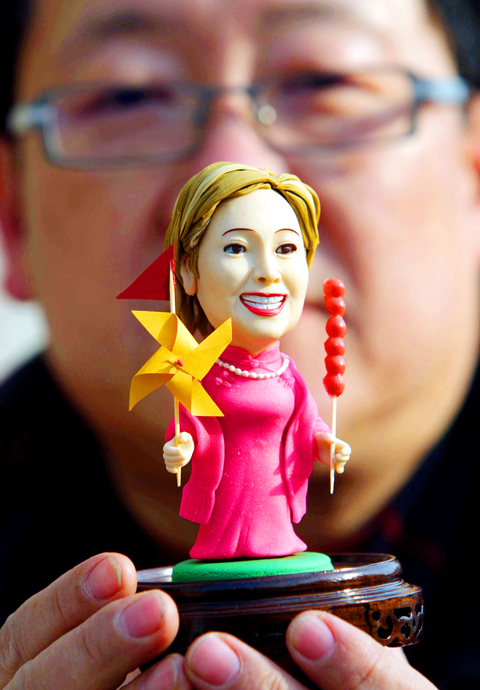 Chinese artist Peng Xiaoping shows off his dough figurine of US Secretary of State Hillary Clinton holding a windmill and candied tomatoes on a stick, to mark her visit to Beijing on Saturday.
PHOTO: AFP
In Jakarta, she poked fun at her music tastes on a popular TV show and mixed with smiling and cheering crowds in a slum benefiting from US aid projects.
Clinton moved an audience of 2,000 at Ewha University in Seoul, the largest women's college in the world, becoming deeply personal at one point when she spoke of her love for her husband.
In Beijing, she spoke humbly about past US environmental mistakes when she visited a clean-energy plant to highlight the need for international cooperation in fighting climate change.
Less hard-edged than she often appeared to be during the presidential campaign, the 61-year-old has basked in the glow of warm contact with private citizens and public officials alike.
Upon meeting Clinton, one of China's top officials, Dai Bingguo (戴秉國), said: "And you look younger and more beautiful than you look on TV."
She reddened, before replying: "Well, we will get along very well."
Clinton has signaled she plans to meet as many people as she can, both inside and outside government, in her role as the top US diplomat.
She has said the new administration of US President Barack Obama is looking to balance military might with the "soft" power of diplomacy and development — a combination the Obama administration has called "smart power."
Her approach so far has stood in contrast to that of her predecessor, Condoleezza Rice, an academic whose public persona on overseas trips was more reserved.
She says she wants to repair the damage to the image of the US abroad after eight years under former US president George W. Bush, although she does not mention the former president by name.
"I really believe that it's that kind of outreach that we have to do everywhere ... there's a real hunger for the United States to be present again," Clinton told reporters traveling on her Asian tour.
"People still really want to like America and they want to know what we're doing," she said.
In Indonesia, she connected with a population fascinated by Obama, who spent four years of his childhood in Jakarta.
On popular television show Dahsyat, Clinton caused a stir among the young guests when she started off with: "I was just speaking to President Obama."
Members of the audience, their eyes lighting up and voices rising with excitement at the comment, later wanted to know her tastes in music.
When she replied that she likes "old standbys" by the Beatles and the Rolling Stones, the audience applauded and cheered.
"I don't feel so old," she gushed.
She also complimented her audience by pointing out how Indonesia had changed over the years to become a place where "democracy, Islam and modernity" thrive.
It was a clear indication of how the new administration wants to promote Indonesia as a model for other Muslim countries with which Obama seeks a "new way forward" based on mutual interests and respect.
Clinton also spoke about the "struggle" against terrorism, discarding the "war on terror" language used by the Bush administration.
In Tokyo, she used a visit to a Shinto shrine to promote the Obama administration's push for more "balance and harmony" in US foreign policy.
She also drew praise by promoting women's rights on the tour.
During a meeting with Chinese women's activists, one said: "I personally think you are a wonderful representative of the best women on this earth."
Comments will be moderated. Keep comments relevant to the article. Remarks containing abusive and obscene language, personal attacks of any kind or promotion will be removed and the user banned. Final decision will be at the discretion of the Taipei Times.