'Pub-going, loose, forward women' prepare mission
Nisha Susan is a busy lady on an unusual Valentine's Day mission, sorting out piles of cards, letters and lots of pink underwear — all destined for a right-wing Hindu vigilante group.
"There are many of these coming every day, these ones for instance are from Jaipur" in western India, said the 20-something Susan, holding up a pair of vivid pink panties.
Susan is founder of the "Consortium of Pub-going, Loose and Forward Women" — a group she set up as a provocative response to a recent attack by Hindu extremists on young women drinking in a bar in southern India.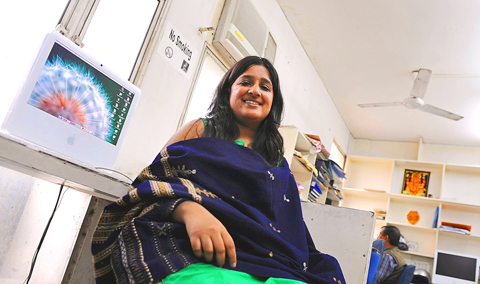 Nisha Susan, creator of the "Consortium of Pub-going, Loose and Forward Women" group on social networking site Facebook, poses at her office in New Delhi on Wednesday.
PHOTO: AFP
Television footage of Sri Ram Sena (SRS, or Army of Lord Ram) activists chasing, slapping and kicking the terrified women prompted widespread condemnation and outrage.
The attackers, who style themselves as guardians of traditional Hindu values, were briefly detained and then released on bail, prompting Susan to take matters into her own hands.
Using the Facebook social networking site, she appealed to Indian women to send in their pink chaddis — a colloquial Hindi term for underwear.
The panties would then be sent to the SRS as a special "gift" for Valentine's Day — an event the right-wing group denounces as Western and decadent.
"We want to tell these people that there are other ways of protesting, particularly the non-violent way," Susan said.
The Consortium of Pub-going, Loose and Forward Women already has 20,000 Facebook members and the underwear is coming in thick and fast.
Contributions — some of them from men — have arrived from across the country and from all age groups, said Isha Manchanda, a member of the campaign.
"One of the contributors was a 55-year-old woman who said she had not been to a pub in her life or celebrated Valentine's Day but was joining our cause because she was horrified by what she saw on television," Manchanda said.
In the wake of the pub attack, India's Women and Child Development Minister Renuka Chowduri compared the SRS to the Taliban in Afghanistan, but the group's leadership was unrepentant.
Not only did it defend the violence, but it also warned that any shops buying into the Valentine's Day market would face attack.
"Drinking, socializing, celebrating Valentine's Day is all part of Western culture which is corrupting our Indian culture," SRS general secretary V.K. Rajesh said.
"We are not against love. But we are against loose morals we see among the younger generation, which is blindly aping the West. And we will not spare these people and take whatever action needed within the law," he said.
Rajesh did not seem fazed by the impending deluge.
"We welcome the gifts. Those who send us the underwear, we will send them pink saris. It is symbolic of Indian culture," he said.
Comments will be moderated. Keep comments relevant to the article. Remarks containing abusive and obscene language, personal attacks of any kind or promotion will be removed and the user banned. Final decision will be at the discretion of the Taipei Times.