ANC splinter group forms party
WORRIED The ANC was clearly concerned that there might be enough discontent among voters for the party to cut into its parliamentary majority
A splinter group of prominent African National Congress (ANC) politicians has launched a new party in the first major challenge to the movement since it took power nearly 15 years ago after toppling South Africa's apartheid government.
At dueling rallies on Tuesday, the ANC drew its usual star power and crowds.
But the opposition politicians gathering across town delivered enough energy and biting rhetoric to worry the nation's long-dominant political force.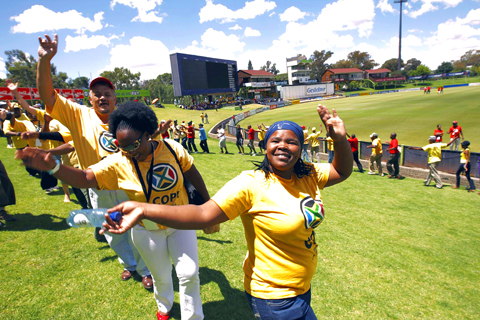 Members of the Congress of the People dance at a rally in Bleomfontein, South Africa, on Tuesday.
PHOTO: EPA
Dominated by former ANC officials — though none with the drawing power of ANC leader Jacob Zuma or party icon Nelson Mandela — the newly formed Congress of the People (COPE) was not expected to defeat the ANC in general elections next year.
But the ANC was clearly concerned that there might be enough discontent among its supporters for the new party to seriously cut into its large parliamentary majority.
On Tuesday, the governing party showed how seriously it takes COPE, organizing a counter rally in this university town 400km south of Johannesburg, which the ANC considers its birthplace.
Zuma, a 66-year-old former guerrilla leader, drew thunderous cheers from some 15,000 people packed into a soccer stadium in Mangaung, the black township on the edges of Bloemfontein.
He called on supporters to "defend the ANC from attempts to sow disunity and confusion in its ranks."
"We must defend the peace, harmony and stability that was achieved in 1994," he said.
"Only the ANC can deliver true unity and prosperity in this country," he said.
COPE, led by former South African defense minister Mosiuoa Lekota, emerged after the ANC forced Thabo Mbeki to step down in September as the nation's president.
Lekota has called the manner in which Mbeki was ousted undemocratic and questioned whether Zuma, who has struggled to shake corruption allegations, is fit for the presidency.
Mthethwa dismissed COPE as a group of disgruntled politicians who wanted to cling to power, but said its formation was "good for democracy."
While the ANC rallied on a dusty soccer field, COPE was launched on Tuesday before about 5,000 enthusiastic supporters wearing yellow T-shirts emblazoned with the party logo on the green clipped lawn of the local cricket field in a more leafy part of town.
Berny Moshobane, from the northern Limpopo Province, joined the new party, saying he was expelled from the ANC for not agreeing with the party's leadership.
"I do not want to be ruled by a leader involved in controversy," he said.
"Yes, this new party is like a continuation of the ANC, but we are more experienced now, more enlightened," he said.
Comments will be moderated. Keep comments relevant to the article. Remarks containing abusive and obscene language, personal attacks of any kind or promotion will be removed and the user banned. Final decision will be at the discretion of the Taipei Times.