Chinese protest for human rights
SAFEGUARD RIGHTS Two dozen petitioners gathered outside the Foreign Ministry to call for redress for detentions, land seizures and abuses by local courts
Two dozen people protested outside the Foreign Ministry in Beijing yesterday, using the 60th anniversary of the UN's Universal Declaration of Human Rights to decry myriad alleged government abuses.
Kneeling outside the front gate of the building, the group held up letters of complaints and called for redress for illegal detentions, government seizures of land and abuses by local courts.
One woman clasped a bright red copy of the Constitution close to her chest, and another a white banner in English that read: "Safeguard human rights." Others held photos of relatives allegedly beaten in labor camps.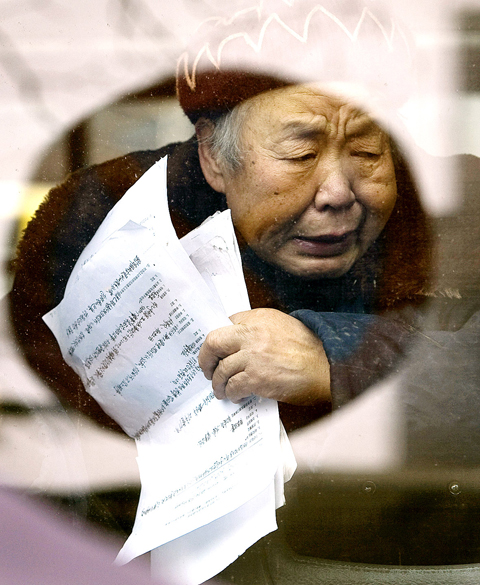 A Chinese petitioner with her justice and human rights complaint letters looks out from the window after she was put on a public city bus by police during a protest outside the Foreign Ministry building in Beijing yesterday.
PHOTO: AP
Many were petitioners, people who come to the capital to ask the central government for help against abuses by local governments, a centuries-old practice dating from days when people could petition the emperor. Many cannot air their stories in local media or courts, which are both controlled by the Chinese Communist Party.
"Today is human rights day, but there are no human rights in China. I want my land, I want to eat," said Yang Guiyin, a middle-aged woman from Shanxi Province.
She said her land was taken away four years ago for development and her house knocked down, but the local government refused to give her compensation.
Yang said she had been sent to a labor camp on three separate occasions, where she was badly beaten.
Another protester, Zhang Zhenxin, has been petitioning for 10 years after his house in Beijing was destroyed to make way for a development project.
"Today is ... the day of the universal declaration of human rights. Today Beijing's petitioners are planning to submit to the Chinese government an agreement on protecting human rights," he said.
Beijing police contained the protesters behind a police rope, but let them continue for nearly half an hour, before they were herded onto a public city bus and taken away, pressing their complaints to the windows and shouting at foreign journalists.
"They are going to relevant departments," said one policeman, who refused to give his name.
It is unusual for petitioners to take their complaints to the Foreign Ministry, and they normally go to so-called "Letters and Visits" offices in the capital, which are supposed to receive grievances. Many are often followed by local police to the capital and taken back home.
Meanwhile, a Chinese newspaper report alleging authorities locked up people in mental hospitals for criticizing the state and filing complaints about corruption has focused rare attention on the usually taboo topic of psychiatric abuse in China.
An article appearing in the Beijing News on Monday has been widely reproduced by other media and prompted a highly critical editorial on Tuesday in the English-language China Daily, a newspaper targeted at foreigners.
According to the Beijing News, Shandong provincial officials in the city of Xintai south of the capital committed people who were seeking to attract the attention of higher authorities to their complaints over local corruption or land seizures.
Some were forced to take psychiatric drugs and all were told they would not be released until they signed pledges to drop their complaints, the paper said.
Those allegations could not immediately be verified independently, but local officials said they were investigating.
A man who answered the phone at Xintai's Communist Party publicity office, who like many Chinese bureaucrats would give only his surname, Xu, said the report was "being dealt with" but said he had no details.
A man at local government headquarters said leaders were "seriously concerned about the report," but refused to give details or his name.
However, the China Daily cited the report as clear evidence that officials had abused their authority.
"Oppressing petitioners is no way to govern or to redress their grievances," said the editorial, beneath the headline "Stop this cruelty." The Beijing News report was picked up by other state media, including the Web site of the Communist Party's flagship People's Daily.
That marks the first time in years that this issue has been given such a high profile, said Robin Munro, a research associate with the University of London's School of Oriental and African Studies.
Munro, who has researched abuse claims extensively, said that could represent a desire to prompt a crackdown on misuse of mental hospitals to silence critics, which he said have grown more popular as other police powers to detain were eliminated.
Comments will be moderated. Keep comments relevant to the article. Remarks containing abusive and obscene language, personal attacks of any kind or promotion will be removed and the user banned. Final decision will be at the discretion of the Taipei Times.