Australia to launch global carbon capture scheme
Australia will launch a multimillion dollar international carbon capture and storage institute to fight global warming, Australian Prime Minister Kevin Rudd announced yesterday.
Rudd said the plan would be the centerpiece of his address to the UN General Assembly in New York next week, adding that British Prime Minister Gordon Brown had already offered his support.
The institute would promote research and investment to help meet a G8 commitment to have at least 20 industrial scale carbon capture and storage (CSS) projects in operation by 2020.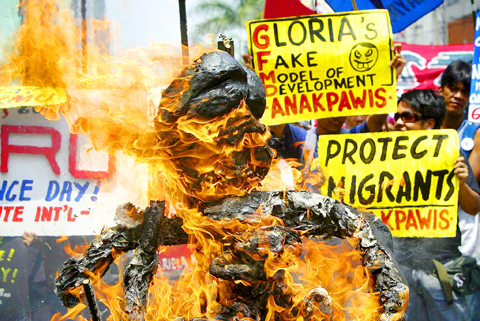 Hundreds of migrants burn an effigy of Philippine President Gloria Macapagal Arroyo during a rally near the gates of Malacanang Palace in Manila yesterday as they protest Arroyo's portrayal of herself as a champion of migration in the Global Forum on Migration and Development next month. The protesters claim that the government refuses to satisfactorily address issues such as exorbitant remittance charges, human rights violations and the lack of employment opportunities.
PHOTO: EPA
CSS involves capturing carbon dioxide as it is released into the atmosphere, compressing it and then pumping it into depleted oil and gas fields or other safe underground chambers.
Carbon dioxide and other greenhouse gases blamed for global warming are produced by burning fossil fuels, and Rudd said Australia is the world's largest exporter of coal.
Any effective solution to climate change must deal with clean coal and CSS could be a large part of the solution, he told a news conference.
"We the government want this global carbon and storage institute in Australia to be the global go-to place across the board for clean coal technologies and their application. That is the ambition," he said.
"Rather than simply put an idea out there, we have decided that we need to have some skin in the game [make a significant investment]," he said.
"So we will be providing up to A$100 million [US$80 million] a year to fund this global carbon capture and storage institute," he said.
Rudd said CSS had the potential to capture 9 billion tonnes of carbon by 2050, about 20 percent of the reduction needed to cap atmospheric levels at 450 parts per million.
There are just five pilot projects worldwide, including one in Australia's Victoria state.
Rudd, whose first act when he took office last year was to ratify the Kyoto Protocol on global warming, said there was a danger the G8 ambition would end up as simply a politically pious statement.
Comments will be moderated. Keep comments relevant to the article. Remarks containing abusive and obscene language, personal attacks of any kind or promotion will be removed and the user banned. Final decision will be at the discretion of the Taipei Times.