Small Missouri towns nervously await river's cresta
As northerners watched the Mississippi River slowly recede, residents of southern towns were taking no chances, furiously filling sandbags and keeping watch over saturated levees struggling to hold back the flooded river.
But there's an end within sight: Forecasters expect the last stretch of the bloated river to crest later this week.
"The spirits are tired, but they are still there and still solid," said Jo Anne Smiley, mayor of Clarksville, where makeshift sandbag levees are keeping the city's small downtown dry. "This is a community that will rise above this."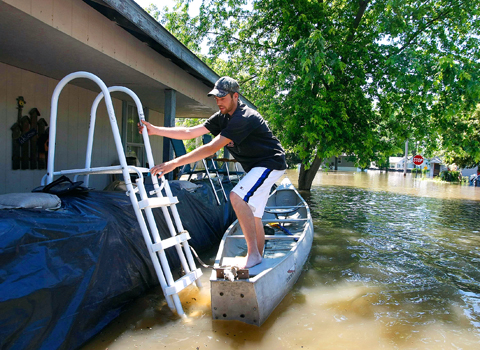 Victor Wright uses a canoe to access his house surrounded by flood waters from the Mississippi River on Monday in Clarksville, Missouri.
PHOTO: AFP
General Robert Van Antwerp, the US Army Corps of Engineers' chief of engineers, toured the area with Smiley on Monday.
He said that he was most concerned about the river's agricultural levees.
"I think what they have is holding well," Van Antwerp said. "Now, it's a matter of getting the water off of it."
The constant pressure of the river remains the primary concern in Lincoln County, where officials asked for volunteers on Monday to help fill 50,000 sandbags to fortify the Pin Oak levee.
The earthen berm is so waterlogged it was like "walking on a waterbed," county emergency management spokesman Andy Binder said.
Federal officials were not sure it would hold when the river crests at Winfield later this week.
If it breaches, the river will swamp 100 homes in east Winfield, as well as thousands of hectares of farm fields, several businesses and a city ballpark. It took six hours on Monday to choke off a leak caused when a muskrat burrowed a hole in the soft ground.
Not far from the Iowa state line, the river was down a few centimeters at Canton after cresting Sunday at 8.23m, a little short of the record set during the Great Flood of 1993.
Down river from Quincy, the levee at Hannibal, Missouri, was holding the slowly falling river out of the boyhood hometown of Samuel Clemens, who wrote as Mark Twain.
Comments will be moderated. Keep comments relevant to the article. Remarks containing abusive and obscene language, personal attacks of any kind or promotion will be removed and the user banned. Final decision will be at the discretion of the Taipei Times.