Mugabe ratchets up pressure on opposition
Just three weeks before the presidential runoff, Zimbabwean President Robert Mugabe is giving the opposition no room to maneuver — harassing and threatening to arrest its candidate, banning its rallies and attacking diplomats who try to investigate political violence.
Even food is a weapon, with a ban on aid agencies ensuring the poorest Zimbabweans must turn to Mugabe for help even if they blame him for the collapse of the economy.
Morgan Tsvangirai out-polled Mugabe and two other candidates in the March 29 first round of presidential voting, but did not garner the 50 percent plus one vote necessary to avoid a runoff. In recent days, it has become increasingly clear Mugabe does not plan to let Tsvangirai come close to toppling him in the June 27 runoff.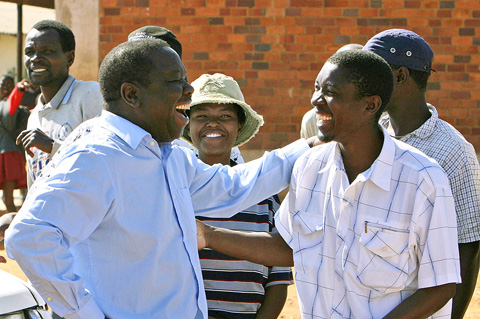 Morgan Tsvangirai, president of the main opposition party in Zimbabwe, talks to people at a campaign event in Esigodini about 80 km from Bulawayo on Friday. He was arrested during his campaigning after police said it was not sanctioned.
PHOTO: AP
Tsvangirai tried to campaign around Bulawayo, Zimbabwe's second largest city, on Friday. He was stopped at two roadblocks, and the second time ordered to go to a police station about 50km from Bulawayo.
About two hours later, he and reporters with him were allowed to leave the station. They drove back to Bulawayo under police escort.
Tsvangirai's spokesman, George Sibotshiwe, said Tsvangirai was questioned by police at the station for 25 minutes, and was told that all party rallies in the country had been banned indefinitely.
"We are dismayed that our president has not been allowed to access the Zimbabwean people at a crucial stage in this campaign," Sibotshiwe said.
In a statement on Friday, Tsvangirai's Movement for Democratic Change said police had banned its rallies out of concern for the safety of Tsvangirai and other party leaders. Sibotshiwe called the justification "nonsense," and said the ban was "a clear indication that the regime will do everything necessary to remain in power."
Police spokesman Wayne Bvudzijena insisted that "people are free to campaign as they choose," but he said Tsvangirai had consistently broken the law by failing to notify police of his rallies.
Tsvangirai left the country soon after the first round of voting, in March, and his party has said he was the target of a military assassination plot. He had only returned to Zimbabwe late last month to campaign for the runoff.
The government-controlled media has focused on Mugabe and ZANU-PF, all but ignoring Tsvangirai's campaign, raising the question of whether Zimbabweans in isolated rural areas even know the opposition leader has returned.
Tsvangirai's party, blaming state agents, says at least 60 of its supporters have been slain in the past two months.
The latest setback for Tsvangirai came as UN aid agencies said they were deeply concerned because aid groups have been ordered to halt operations. Millions of Zimbabweans depend on international groups for food and other aid as the economy crumbles.
Without the private agencies, impoverished Zimbabweans will be dependent on the government and Mugabe's party, both of which distribute food and other aid.
The US ambassador to Zimbabwe, James McGee, said on Friday that Zimbabwean authorities were now supplying food mostly to Mugabe supporters.
On Thursday, aid groups in Zimbabwe were sent a memorandum from social welfare minister Nicholas Goche ordering an indefinite suspension of field work.
Aid deliveries to more than 4 million people in the African country will be severely hampered by the decision, said Elisabeth Byrs, a spokeswoman for the UN Office for the Coordination of Humanitarian Affairs said on Friday.
More than half Zimbabwe's population live on less than US$1 a day and life expectancy is only 35 years, according to the UN.
Comments will be moderated. Keep comments relevant to the article. Remarks containing abusive and obscene language, personal attacks of any kind or promotion will be removed and the user banned. Final decision will be at the discretion of the Taipei Times.