Villagers accuse US of killing civilians in Afghanistan
PROTEST Separately in central Kapisa Province, a coalition vehicle hit a roadside bomb on Friday in Tag Ab valley, killing one service member, the coalition said
Dozens of protesters blocked a road on Saturday in eastern Afghanistan claiming US-led coalition forces killed three civilians.
Villagers from the area carried the three bodies to a major highway during the protest, in which police allegedly opened fire, killing one and wounding three.
The coalition said its troops were attacked while searching compounds on Friday in the Shinwar district of Nangarhar Province.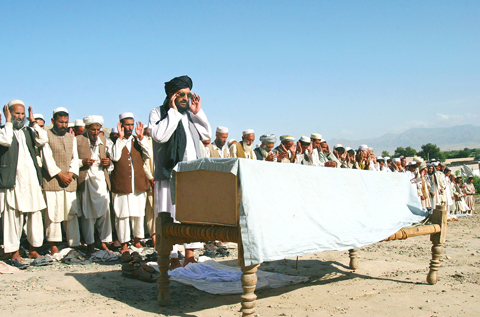 Villagers offer prayers over the coffin of an Afghan man who was allegedly killed in a US operation in the Shinwar district of Nangarhar Province, east of Kabul, Afghanistan, on Saturday. Dozens of protesters blocked a road Saturday in eastern Afghanistan, claiming that US-led coalition forces killed three civilians.
PHOTO: AP
"Several militants were killed" and nine insurgents were arrested, it said in a statement on Saturday.
The coalition said the operation was targeting a "foreign fighter network" and that militants in the area had recently attacked coalition forces. The troops destroyed several automatic rifles, grenades and ammunition discovered in the compounds.
Interior Ministry spokesman Zemeri Bashary said the government was investigating the villagers' claims.
"The coalition claimed they were fired upon from a house and the enemy were gathered there, but the villagers claim those people who were killed were innocent civilians," said Mohammad Hashem Ghamsharik, spokesman for the Nangarhar governor.
The head of the Nangarhar provincial council, Fazel Hadi Muslimyar, said police opened fire on the protesters, killing one and wounding three. Police refused to comment.
The Afghan government has pleaded with coalition forces to coordinate more closely to avoid civilian casualties, but foreign troops say insurgents hide in villages, using civilians as human shields.
More than 1,200 people, mostly militants, have died so far this year in insurgency-related violence in Afghanistan, according to an Associated Press count.
Separately in central Kapisa Province, a coalition vehicle hit a roadside bomb on Friday in Tag Ab valley, killing one service member, the coalition said. It did not give details.
In eastern Paktia Province, Afghan and foreign forces killed seven suspected Taliban insurgents during an operation on Friday, said provincial police chief General Hismatullah Alizai.
In southern Helmand Province, three Danish soldiers suffered minor injuries after a roadside bomb exploded near their vehicle on Saturday, said a statement from the Danish military.
In the southern city of Kandahar, police arrested two Pakistanis and an Afghan transporting a car full of explosives on Saturday, said provincial police chief Sayed Agha Saqib.
One of the Pakistani suspects said he was hired by insurgents in Karachi to pick up explosives from the Afghan border district of Spin Boldak and deliver them to Kandahar city for 10,000 rupees (US$150).
US military and intelligence officials have warned that Pakistan's tribal areas are becoming a breeding ground for Taliban, al-Qaeda and other militant groups.
Pakistan is a U.S. ally and has deployed more than 100,000 troops in its border areas but has struggled to contain rising militancy.
Comments will be moderated. Keep comments relevant to the article. Remarks containing abusive and obscene language, personal attacks of any kind or promotion will be removed and the user banned. Final decision will be at the discretion of the Taipei Times.