Suspended prison sentence slapped on rights activist
Iran has handed down a suspended jail sentence to an award-winning women's rights activist on charges of seeking to harm national security, press reports said yesterday.
"Parvin Ardalan was sentenced to two to three years suspended jail," reformist newspaper Etemad said, without giving a specific term.
"She was accused of illegal gathering ... and defying the police in order to harm national security," it said.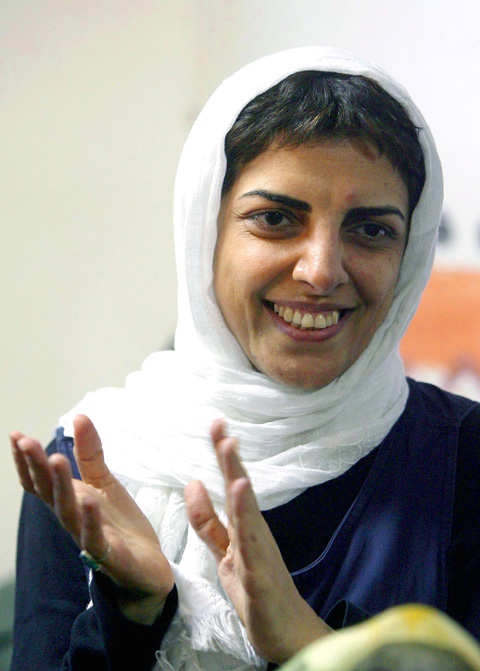 Iranian women's rights activist and 2007 Olaf Palme Prize winner Parvin Ardalan is pictured in Tehran, Iran, on March 10.
PHOTO: EPA
Ardalan, who won Sweden's Olof Palme Prize last year, faced the charges for a June 2006 demonstration at a Tehran main square demanding equal rights for women on divorce, inheritance and child custody.
The demonstration was broken up amid allegations of police brutality and 70 people were arrested.
In March, the activist was banned from leaving Iran for Stockholm to collect her award, won for her contributions to the women's rights movement.
Ardalan is one of the figureheads of a "One Million Signature" campaign that seeks to change Iran's laws that discriminate against women by collecting signatures online and in person.
The campaign, which is backed by Nobel peace prize winner Shirin Ebadi, was launched after the June 2006 demonstration.
Iran has exerted mounting pressure on women's rights advocates and several have been arrested in recent months for calling for changes to Iranian laws or for taking part in public protests.
Four women's rights activists have been sentenced to suspended terms of flogging and jail for taking part in a demonstration in March last year in front of a court where Ardalan and four fellow female activists were on trial.
Comments will be moderated. Keep comments relevant to the article. Remarks containing abusive and obscene language, personal attacks of any kind or promotion will be removed and the user banned. Final decision will be at the discretion of the Taipei Times.