Colombian militants to hand over three hostages to Chavez
Colombian rebels said in a statement yesterday that they had ordered the release of three hostages, including Clara Rojas, kidnapped in 2002 alongside French-Colombian politician Ingrid Betancourt, and her son born in captivity.
"The order to free them in Colombia has already been given," the Revolutionary Armed Forces of Colombia (FARC) said in a statement issued in Cuba and given to the Colombian government by the Cuban Ambassador to Bogota.
The Marxist rebels said they would free lawmaker Consuelo Gonzalez alongside Rojas -- a top aide in Betancourt's 2002 presidential bid -- and the three or four-year-old boy born of an insurgent father.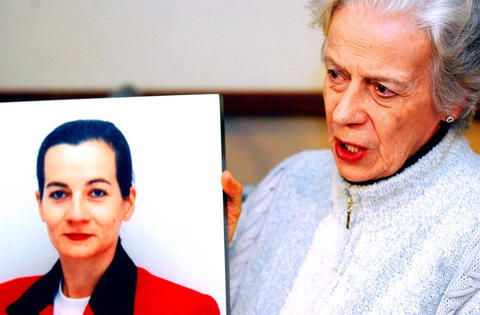 Clara Gonzalez de Rojas holds a picture of her daughter, former Colombian vice presidential candidate Clara Rojas, who was kidnapped by the Revolutionary Armed Forces of Colombia, at her apartment in Bogota, Colombia, on Tuesday. Rojas says she hopes news that her daughter will be released is true.
PHOTO: EPA
The statement said the captives would be handed over to Vene-zuelan President Hugo Chavez or "whomever he opts to designate."
"It looks like a great Christmas gift, above all for the families" of the hostages, said Chavez, adding that he would not personally meet the hostages upon their release and making it clear there was still a question of where they would be set free.
"We have various alternatives, none of which is easy ... because these people are in the heart of the jungle, of the mountains," he said in Montevideo where he was attending a Mercosur trade group summit.
The Colombian government at first reacted cautiously to the announcement, saying it could not verify its authenticity, but later changed once Chavez said he had received the same statement and the Cuban ambassador handed them a copy.
"In view of the statement, the Colombian government welcomes ... the unilateral release, and we are satisfied with FARC's gestures toward Chavez," Colombia's Peace Commissioner Carlos Restrepo said.
The decision to involve Chavez, however, is likely to anger Bogota, which last month ended the Venezuelan president's participation in efforts to release some 45 hostages, including Betancourt, Gonzalez and Rojas, accusing him of siding with the FARC.
"This gesture makes amends to the relatives of those held, to Chavez and to Senator Piedad Cordoba," the FARC statement said.
Cordoba, a Colombian lawmaker, had acted as mediator alongside Chavez.
The FARC condemned Colombian President Alvaro Uribe's decision to end the mediation by Chavez and Cordoba.
The rebels said the decision also was an affront to French President Nicolas Sarkozy, who has taken a personal interest in efforts to obtain the release of Betancourt, a dual French and Colombian citizen.
Then a senator, Betancourt was captured by the FARC when she took her 2002 presidential campaign to San Vicente del Caguan, an area then controlled by the insurgents.
Rojas, who was Betancourt's top aide and was later named her running mate, was captured alongside the presidential candidate.
Comments will be moderated. Keep comments relevant to the article. Remarks containing abusive and obscene language, personal attacks of any kind or promotion will be removed and the user banned. Final decision will be at the discretion of the Taipei Times.