Obama scoffs at suggestion of insufficient experience
Democratic Senator Barack Obama scoffed at suggestions by former US president Bill Clinton that he is not ready to be president, and that Obama is running strong in Iowa in part because his home state and Iowa share a border.
"When I was 20 points down [in the polls], they all thought I was a wonderful guy. Obviously things have changed here in Iowa and elsewhere," Obama said at a press conference on Saturday. "If they're suggesting that I, as this `callow youth,' somehow had a structural advantage in Iowa relative to the Clinton operation and the former president of the United States, that doesn't strike me as a real plausible argument."
Obama was touring north central Iowa on the second day of a a five-day bus tour across the icy state. He made campaign stops in five cities on Saturday alone and was expected to keep up a similar clip throughout the rest of the tour.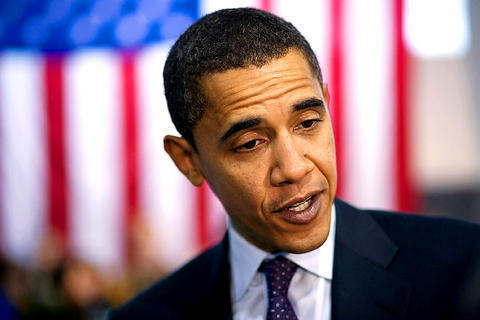 Democratic presidential hopeful Senator Barack Obama greets potential supporters in Monticello, Iowa, on Friday.
PHOTO: AP
Obama is locked in a tight contest with Senator Hillary Rodham Clinton and former senator John Edwards in Iowa less than three weeks before the state's Jan. 3 caucuses, which lead off the presidential nominating season.
His comments came amid evidence that the former first lady's once-commanding lead in many state polls has vanished and that her campaign is scrambling to restore its footing.
Speaking on Friday on PBS' The Charlie Rose Show, Bill Clinton suggested that Obama's experience in public life -- he served seven years in the Illinois state legislature before being elected to the US Senate in 2004 -- was insufficient.
"I mean, when is the last time we elected a president based on one year of service in the Senate before he started running?" Clinton said. "In theory, we could find someone who is a gifted television commentator and let them run."
He said Illinois' proximity to Iowa gave Obama an advantage over Hillary Clinton, a New York senator who grew up in Illinois.
Obama noted that the former president was simply echoing an argument his wife's campaign had made for months.
"I have the kind of experience the country needs right now," Obama said, noting that Bill Clinton was a relative newcomer when he was elected president in 1992.
Obama was also asked about the resignation of a top Clinton adviser who had raised the issue of Obama's use of illegal drugs as a teenager in a newspaper interview last week. The adviser, Bill Shaheen, stepped down from the campaign after Clinton personally apologized to Obama for Shaheen's comments.
Obama, 46, acknowledged using marijuana and cocaine in his 1995 memoir, Dreams From My Father. He told a group of students in New Hampshire last month that his drug use had caused him to "waste a lot of time" during high school.
He said he did not know if voters are willing to accept a presidential candidate's past use of drugs, but he believes most have more pressing concerns.
"I think the average American believes what someone does when they were a teenager, 30 years ago, probably is not relevant to how they are going to be performing as commander in chief or president of the United States," he said.
Comments will be moderated. Keep comments relevant to the article. Remarks containing abusive and obscene language, personal attacks of any kind or promotion will be removed and the user banned. Final decision will be at the discretion of the Taipei Times.