Fierce fighting in south Baghdad
RESPONSE US, Polish and Iraqi forces fought back after a US base was hit on Monday by mortar shells and small-arms fire, in which four civilians were killed and 12 wounded
Suspected Shiite militiamen hit military bases with mortar rounds and sprayed machine gun fire at a Polish helicopter, setting off fierce fighting that killed at least four civilians in a volatile area south of Baghdad.
It was the latest flare-up of internal Shiite feuds that threaten to destabilize the oil-rich southern region and undermine US progress against al-Qaeda in Iraq elsewhere in the country.
US commanders have cited major progress in curtailing al-Qaeda operations during an eight-month-old security operation, but they have been unable to stop the car bombings and suicide attacks usually attributed to the group.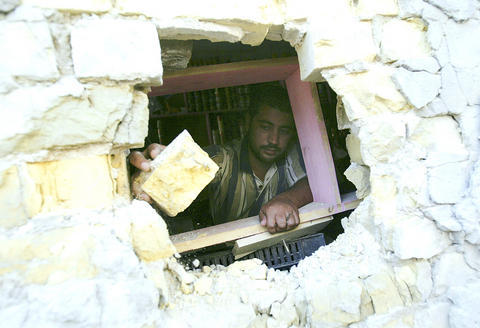 A man inspects a hole in his house after a mortar attack in Diwaniyah, 130km south of Baghdad, Iraq, on Monday.
PHOTO: AP
In the latest such attack, an explosives-laden car blew up in western Baghdad's religiously mixed Harthiyah neighborhood on Monday night, killing at least six people and wounding 25, police said. Most of the victims were among families on their way home after spending the day in a nearby amusement park for the Muslim holiday of Id al-Fitr, which marks the end of the fasting month of Ramadan.
The vehicle had apparently been left on a side street with several other cars to avoid a parking ban on the capital's main streets designed to prevent such bombings.
A suicide car bomber also targeted a Sunni Arab group that has joined forces with the US against al-Qaeda around Balad, 80km north of Baghdad.
The blast tore through a checkpoint near the Salahuddin Revival Council's office in Yathreb village, just outside the city, killing at least six policemen and wounding eight people, including bystanders, police said.
Radical Shiite cleric Moqtada al-Sadr's office blamed US forces for the clashes in Diwaniyah, south of Baghdad. It also claimed civilians were targeted by aircraft, the latest in a series of allegations that innocent Iraqis have lost their lives unnecessarily at the hands of US troops and private security contractors.
The US military and allied Polish forces in the area said coalition and Iraqi security troops fought back after a base was hit on Monday by mortar shells and small-arms fire that killed four civilians and wounded 12.
The attackers escaped to a wooded area near the base, the military said.
Lieutenant Colonel Wlodzimierz Glogowski, spokesman for the Polish force in Diwaniyah, said the civilian casualties were caused by the attackers' mortar shells, not the coalition's fire.
An Iraqi military official said fighters from al-Sadr's Mahdi Army militia fired four mortar rounds at the main US and Polish forward operating base and nine rounds at a patrol base manned mainly by Iraqi and Polish soldiers.
US-led forces fired back with six or seven artillery rounds and both sides traded small-arms fire, the official said.
A curfew was imposed on four districts in Diwaniyah, a city known to be dominated by Mahdi Army militants.
Comments will be moderated. Keep comments relevant to the article. Remarks containing abusive and obscene language, personal attacks of any kind or promotion will be removed and the user banned. Final decision will be at the discretion of the Taipei Times.