FEATURE: Moscow's unusual water problem
COLD SHOWERS For three weeks every summer, neighborhoods have their hot water sequentially shut off, a side effect of centralized water heating systems
In a Moscow where the gap between rich and poor grows more visible every day, there is one feature of life here that brings city dwellers of all incomes together: ice-cold summer showers.
For three weeks every summer, Moscow neighborhoods have their hot water shut off one by one, forcing residents of Russia's glitzy capital to resort to some fairly primitive remedies.
"We decided not to invest in a water-heater for just three weeks. I heat water in pots, it's no big deal. We've always lived with these shut-offs," said Tatyana Orlova, 57, a resident of the upscale Sretenka street.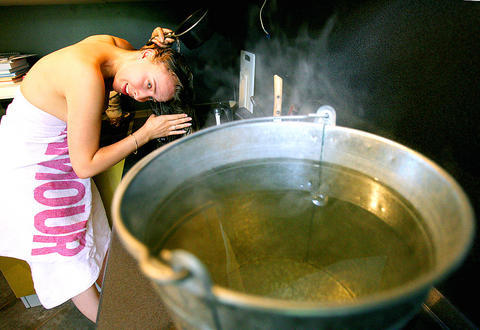 A woman washes her hair with boiled water in her apartment in Moscow on July 23.
PHOTO: AFP
For decades, the same dreaded sign has appeared in apartment lobbies -- once beginning "Comrade resident!" now simply "Dear resident!" -- warning of the coming shut-off, eternally attributed to "preventive measures."
"Since 1930, we have had a centralized water heating system, and it's what we have today," said Alexander Popenskov, spokesman for the Moscow Integrated Power Company (MIPC), the city-owned company that manages the system.
Centralized water heating systems -- and the summer chills that come from annual renovation they need -- are a feature of city living throughout the former Soviet Union.
Over the decades, city residents have gotten used to improvising.
Irina Orlova, Tatyana's daughter, bathes at friends' houses in neighborhoods across the city that have not had their water shut off.
Other Muscovites time their vacations to coincide with the shut-offs, which are widely advertised in newspapers and online, or make more frequent visits to the city's many public bathhouses.
The summer cold snap has made its way into popular culture as well. Soviet-era urban legends abound with stories of people electrocuting themselves by trying to heat their baths with cables. Today the cold water jokes make the rounds on the Internet.
"It turns out that the ministry of health and social development is the sponsor of the summer hot water shut-offs," starts one joke on the Web site www.anekdot.ru. "Toughening us up is the health part. And the trips to see relatives who haven't had their water shut off yet -- that's the social development."
The real reason for the phenomenon, authorities say, is the annual work needed to combat wear and tear on the centralized systems from the hot water piped through them all year.
MIPC spokesman Popenskov said most of Moscow's hot water pipes were installed in the 1970s and 1980s, and have long since passed their anticipated lifespan of 10 years or less.
The mayor's office has launched a vast rehabilitation project to replace more than 10,000km of pipes, "the distance from Moscow to Tokyo," he said.
The five-year project should cost 1.5 billion dollars.
Popenskov said that 300km of particularly dilapidated pipes -- already 40 years old -- will be replaced this summer.
And if any rugged soul will be sad to see the long tradition of cold-water summers pass, they should not fear: Popenskov said the renovation project would not end hot-water shut-offs, only shorten them by a few days.
Comments will be moderated. Keep comments relevant to the article. Remarks containing abusive and obscene language, personal attacks of any kind or promotion will be removed and the user banned. Final decision will be at the discretion of the Taipei Times.