Runaway wildfire menaces homes in Idaho
A wildfire grew by an estimated 518km2 in 24 hours, blackening grazing land as it threatened thousands of southern Idaho homes and facilities at an Air Force training range, fire officials said.
Two large wildfires along the Nevada line combined to create the 2,280km2 blaze, which burned grass and brush and was less than a mile from a training range of Mountain Home Air Force Base.
No one has been seriously hurt, but the homes of about 7,500 people in the sparsely populated region were threatened, fire information officer Chuck Dickson said on Sunday.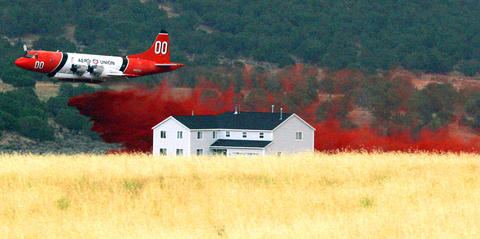 A heavy air tanker drops fire retardant to protect a home in Nephi, Utah, on Sunday. Large fires raged across the western US on Sunday, the National Interagency Fire Center said.
PHOTO: AP
The fire was only about 15 percent contained, Dickson said, and mandatory evacuations remained in effect for Jarbidge, Nevada. Evacuation warnings were lifted for residents of Murphy Hot Springs, Idaho.
The fire was near a Mountain Home training range that pilots use before heading to Iraq and Afghanistan. Dickson said tracking and radar facilities were at risk, but he was not sure what else was on the range.
"When a fire moves as quickly as this one does, pushed by the wind, it creates a very hot heat front," Dickson said.
"That will impact even steel structures quite easily," he said.
Officials with the base's security and fire departments on Sunday declined to comment about what type of facilities, if any, were at risk or how vulnerable they might be.
Dickson said that ranches in the area also were threatened, that a lot of grazing area had been lost and that cattle likely had died in the fast-moving blaze. He did not have an estimate of how many cattle were on grazing allotments within the fire's perimeter.
Dozens of other large fires were burning across the West on Sunday, primarily in Idaho, Nevada, Oregon and Utah, the National Interagency Fire Center said.
Also on Sunday, fire officials in California lifted the last of their evacuation warnings in northern Santa Barbara County, as crews continued making progress against the weeks-old wildfire in the Los Padres National Forest.
Comments will be moderated. Keep comments relevant to the article. Remarks containing abusive and obscene language, personal attacks of any kind or promotion will be removed and the user banned. Final decision will be at the discretion of the Taipei Times.