`Terror school' located in Italy
MODEST MOSQUE An imam held courses in weapons production and made fiery sermons, while his building housed chemical substances such as acids and nitrates
Operating in a nondescript mosque in Perugia, the central hill town known for its Renaissance architecture and idyllic countryside, a small extremist cell allegedly ran what Italian police say was a "terror school" that trained in hand-to-hand combat, bomb making and airplane piloting.
Anti-terrorism police said they arrested three Moroccans -- an imam and two of his aides -- on Saturday and raided the Ponte Felcino mosque on the outskirts of the Umbrian capital, finding barrels of chemicals hidden in the cellar, and documents including instructions on how to pilot a Boeing 747.
"The investigation has shown that, in the Ponte Felcino mosque, there was a continued training for terrorist activity," anti-terror police head Carlo De Stefano said. "We have discovered and neutralized a real `terror school,' which was part of a widespread terrorism system made up of small cells that act on their own."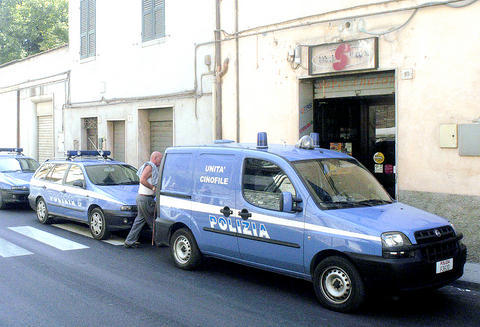 Italian police cars are parked in front of a house where three Moroccan men were arrested in Perugia, central Italy, on Saturday.
PHOTO: AP
The modest mosque, on the ground floor of a red-painted residential building, hid chemical substances, including acids, nitrates and ferrocyanide, which may have been used to experiment during the courses, said Claudio Galzerano, head of the international terrorism division with the anti-terror police.
Activities at the mosque used films and documents downloaded from the Internet, and included weapons training, instructions on how to prepare poisons and explosives, as well as how to lay an ambush, reach combat zones safely and send encrypted messages, police said in a statement.
Police identified the imam as 41-year-old Korchi El Mostapha and his two aides as Mohamed El Jari, 47, and Driss Safika, 46, while a fourth Moroccan suspect was still being sought and was believed to be abroad. All four are suspected of conducting training with the aim of international terrorism.
Another 20 people who frequented the mosque were placed under investigation for various charges, including violating Italy's immigration laws, Galzerano said.
The arrests followed a two-year investigation in the small city, which has a large non-Italian population, including tourists roaming Medieval and Renaissance palaces, students at the local foreigners' university and immigrants working in local industry.
The imam at the central mosque in Perugia, which has a 10,000-strong Muslim community, said the Ponte Felcino group did not appear dangerous, Italian news agency ANSA reported.
"Generally it's a quiet community. A few made some noise over the international situation, but those were just words," the imam, Abdel Qader, told ANSA. "We trust justice. Everything will be verified, and if any [of the suspects] has made a mistake he will have to pay."
Between daily prayers, the small mosque doubled as a training camp, the police statement said. The imam held courses, showed propaganda messages and made fiery sermons inciting a small group of disciples, some of them children, to join the Holy War, it said.
Galzerano, the top anti-terror official, said that the cell was involved only in training activities, and that no one was accused of preparing or carrying out attacks.
The police statement said the cell had contacts with two members of the Moroccan Islamic Combat group arrested around two years ago in Belgium.
The Islamic group -- known by its French acronym, GICM -- is believed to have ties to al-Qaeda and has been linked to the 2004 Madrid bombings.
In recent years Italy has tightened its anti-terrorism laws and stepped up surveillance at mosques and Islamic centers.
Authorities have kept a close eye on what they say are extremist clerics, having some expelled or arrested and put on trial, but several cases have ended in acquittals. In May, a court cleared the former imam of the northern town of Varese and two other Moroccans accused of raising money and recruiting extremists for the GICM.
Interior Minister Giuliano Amato said the Perugia case "confirms the need to always maintain high surveillance in locations where only religious activities should take place."
Comments will be moderated. Keep comments relevant to the article. Remarks containing abusive and obscene language, personal attacks of any kind or promotion will be removed and the user banned. Final decision will be at the discretion of the Taipei Times.