Sri Lankan president rules out snap elections
Sri Lanka's president has ruled out a snap parliamentary election to increase his slender majority, after battlefield success against the Tamil Tiger rebels boosted his government.
President Mahinda Rajapakse said he was keen that the current parliament serve its full six-year term. It was elected in April 2004, while the president came to power in November 2005.
"I am not interested in calling a snap election," the president said late Saturday on the sidelines of his first public rally, in Nawalapitiya, central Sri Lanka, after troops captured the rebels' final bastion in the east.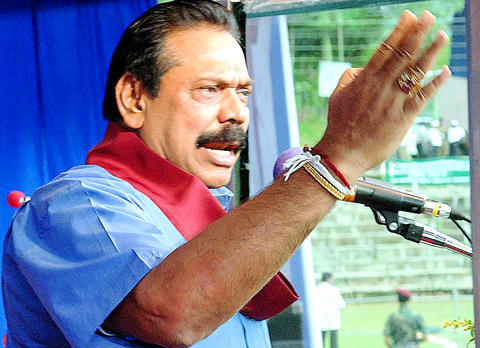 Sri Lankan President Mahinda Rajapakse gestures behind a bullet-proof shield while addressing a public rally in the tea-growing region of Nawalapitiya on Saturday.
PHOTO: AFP
"This is a very favorable time for our party, but I don't want to go for another general election and spend 2 billion rupees [US$18 million] to conduct that election.
"I can build a few more roads with that money. We have a stable government and I want other parties too to unite and move forward."
Blue flags for his party and banners welcoming him as a hero were raised across Nawalapitiya.
Maithripala Sirisena, the secretary of Rajapakse's Sri Lanka Freedom Party (SLFP), said Saturday's public rally represented the first in a series due across the country.
"We want to use these engagements to respond to some of the key issues as well as respond to criticism by the opposition," he said.
Two SLFP dissidents last week formed an alliance with the main opposition in the first open bout of defiance since Rajapakse narrowly won the presidency.
Rajapakse's minority government secured a simple majority in the 225-member assembly in February after engineering the defection of 17 opposition legislators.
Rajapakse told a large public gathering in Nawalapitiya, 150km east of Colombo, that he wanted unity among parties to end the tropical island's drawn out ethnic conflict.
Last week, Rajapakse said the Tamil Tigers must decide between war and peace, and that he was prepared for both.
He insisted he was leaving the door open for the resumption of negotiations with the rebels. Talks collapsed in October last year despite intense international pressure for peace.
"War or peace, we are ready," the president said last week. "It is in their hands. It is now up to the Tigers to decide which path they want to tread on."
Comments will be moderated. Keep comments relevant to the article. Remarks containing abusive and obscene language, personal attacks of any kind or promotion will be removed and the user banned. Final decision will be at the discretion of the Taipei Times.