Pakistan, Iran protest knighthood
`INSULTING, SUSPICIOUS, IMPROPER' Muslims in several nations have protested the decision by the UK to honor Salman Rushdie for his services to literature
Pakistan and Iran summoned the top British envoys in their countries on Tuesday to protest against the award of a knighthood to Salman Rushdie, who was accused of blasphemy by Iran's former leader and whose novel The Satanic Verses outraged many Muslims.
Rushdie, whose book prompted the late Iranian leader Ayatollah Ruhollah Khomeini to issue a 1989 fatwa death warrant against him for blasphemy, was awarded a knighthood for services to literature in Queen Elizabeth's birthday honors list.
Pakistanis protested in several cities on Tuesday chanting "Death to Rushdie" and burning effigies of the British author, born in Bombay to Muslim parents in 1947 and educated at an exclusive British school and Cambridge University.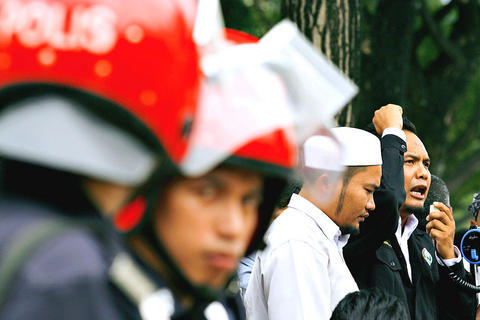 A demonstrator, right, shouts slogans as police officers, left, look on during a rare noisy protest outside the British High Commission in Kuala Lumpur yesterday.
PHOTO: AFP
Pakistan's Foreign Ministry spokeswoman Tasnim Aslam said British High Commissioner Robert Brinkley had been called in.
"He was told that Salman Rushdie has been a controversial figure who is known less for his literary contribution and more for his offensive and insulting writing which deeply hurts the sentiments of Muslims all over the world," she said.
"Conferment of a knighthood on Salman Rushdie shows an utter lack of sensitivity on the part of the British government," she said.
Iran's Foreign Ministry had similar words for Britain's ambassador to Tehran, Geoffrey Adams.
"This insulting, suspicious and improper act by the British government is an obvious example of fighting against Islam," Ebrahim Rahimpour, Foreign Ministry director for Western Europe, told Adams, the official IRNA news agency said.
"It has seriously wounded the beliefs of 1.5 billion Muslims and followers of other religions ... we hold the British government and queen responsible for the circumstances of this provocation, which caused the anger of Muslims," Rahimpour said.
In the meeting, Iranian Foreign Ministry official Ebrahim Rahimpour told Adams that the decision was a "provocative act" that has angered Muslims.
IRNA quoted Adams as saying the Rushdie's award was a cultural, not a political, act.
The Satanic Verses prompted protests, some violent, by Muslims in many countries after it was published in 1988.
Muslims say the novel blasphemed the Prophet Mohammed and ridiculed the Koran and events in early Muslim history.
The Iranian government declared in 1998 that it would not support but could not rescind the fatwa, which had forced Rushdie into hiding for nine years. Hardline groups in Iran still regularly renew the call for his murder, saying the fatwa is irrevocable.
The Pakistani parliament passed a resolution on Monday deploring the knighthood. Religious Affairs Minister Mohammad Ejaz-ul-Haq said it could be used to justify suicide bombings.
Haq said his comments on Monday were not meant to incite violence but it was a fact that the ``honor could motivate potential suicide bombers. He said the knighthood should be withdrawn and the UK should apologize to all Muslims.
"These are things which inflame sentiments, which create provocation and which lead to spreading extremism," he said at a news conference. "These are steps which add fuel to the fire of hatred."
Comments will be moderated. Keep comments relevant to the article. Remarks containing abusive and obscene language, personal attacks of any kind or promotion will be removed and the user banned. Final decision will be at the discretion of the Taipei Times.