Borloo may replace Juppe as France's No. 2: reports
French President Nicolas Sarkozy was expected to reshuffle his Cabinet yesterday following the governing conservative party's less-stellar-than-expected performance in legislative elections last weekend.
French media suggested Finance Minister Jean-Louis Borloo would be a likely candidate to replace the government's defacto deputy prime minister, Alain Juppe.
election loss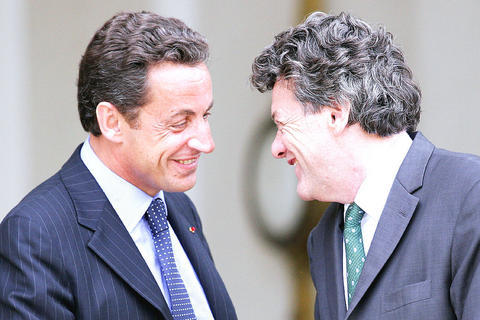 French President Nicolas Sarkozy, left, shares a light moment with French Finance Minister Jean-Louis Borloo as he escorts him back after their meeting at the Elysee Palace on Monday in Paris.
PHOTO: AP
A prominent figure on the right, Juppe announced his resignation as government No. 2 and ecology minister on Sunday night after losing his parliamentary race. He was adhering to Prime Minister Francois Fillon's ruling that ministers -- encouraged to run -- would lose their Cabinet posts if they lost.
Borloo has said he would not refuse an offer to replace Juppe.
"For me, it would be a promotion," Borloo is quoted as saying in yesterday's edition of Le Parisien daily. "For me, that's an offer that can't be refused."
Le Parisien reported Agriculture Minister Christine Lagarde could replace Borloo at the finance ministry.
An official announcement was expected later yesterday.
opposition
Sarkozy was also expected to add a half-dozen or so junior ministers to the government. He has promised to further reflect France's diversity with new posts for the opposition.
Legislative elections last Sunday gave Sarkozy's conservatives and their allies a comfortable majority in the 577-seat National Assembly, with 345 seats. But that was fewer than the 359 seats Sarkozy's party had in the outgoing parliament and certainly not the big triumph predicted by pollsters.
Comments will be moderated. Keep comments relevant to the article. Remarks containing abusive and obscene language, personal attacks of any kind or promotion will be removed and the user banned. Final decision will be at the discretion of the Taipei Times.