World News Quick Take
■ India
Wife-roaster given reprieve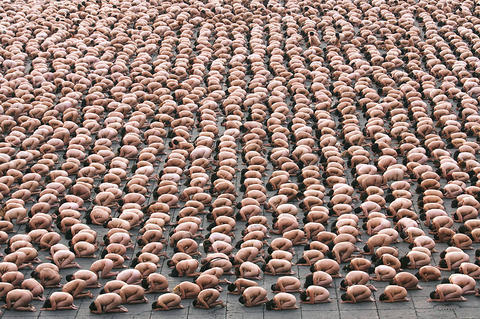 PHOTO: AP
The Supreme Court yesterday ordered a stay on a death sentence of a former politician who roasted his unfaithful wife in the oven of a city restaurant. The Supreme Court said the stay on the death sentence was valid until it completed hearing an appeal against the verdict on Sushil Sharma, the Press Trust of India news agency reported. The Delhi High Court in February had confirmed the capital punishment handed down to Sushil Sharma by a lower court in 2005, officials said. Sharma had challenged the verdict.
■ Japan
Man kills snooping wife
A man strangled his newlywed wife after she snooped on his mobile phone and discovered a pornographic image, police and news reports said yesterday. Hitoshi Kawakami strangled his wife Kazuko on Sunday night at their apartment in a Tokyo suburb, a police spokeswoman said. Kazuko Kawakami died in hospital early yesterday and the police are preparing to charge the man with murder, the Jiji Press news agency and other news reports said.
■ Vietnam
Illness forces landing
A Vietnam Airlines flight was forced to make an emergency landing after an Australian passenger became severely ill after swallowing packets of heroin, an official said yesterday. Two hours into a flight from Ho Chi Minh City to Sydney on Saturday, the pilot was forced to return to Vietnam so the passenger could receive emergency medical treatment, said Nguyen Van Quat, the administrative head of the Southern Airport Authorities. The 200 passengers were delayed for five hours before the flight resumed, Quat said.
■ Morocco
Al-Qaeda `agents' nabbed
Local security forces broke up a network helping to recruit fighters for al-Qaeda's North African branch and arrested around 20 people overnight in several towns across the country, a government official said in Rabat on Sunday. The gang was involved in sending volunteers to training camps run by the Algerian-based al-Qaeda Organization in the Islamic Maghreb, the official said, confirming an earlier report by state news agency MAP. "The operation ... allowed the arrest of around 20 people in several towns across the kingdom," MAP said. Morocco, a staunch US ally, says it has broken up more than 50 militant Islamist cells, some linked to al-Qaeda, and arrested more than 3,000 people since suicide bombings in the country's economic capital Casablanca in 2003.
■ Italy
Oriental decor not allowed
The local government in Treviso has ordered the northern Italian city's Chinese restaurants to remove red lanterns from their windows because they look too "Oriental." "It's spoiling the appearance of the city," the head of the council's town planning department, Sergio Marton, told Corriere della Sera daily. "The Chinese put up all sorts of stuff: lanterns, lions, dragons, there's even one [establishment] that did its whole front in Oriental style." Treviso, just outside Venice in the northeastern Veneto region, is run by the populist, anti-immigrant Northern League. "Treviso is a city of Veneto and Padania, it's certainly not an Oriental city," Deputy Mayor Giancarlo Gentilini said.
■ Russia
Two Tajikistanis killed
Unidentified assailants beat two men from Tajikistan to death and injured another in what Moscow prosecutors believe may have been a hate attack, Russian news agencies reported on Sunday. The bodies of two Tajik citizens, with fatal head injuries, were found in southern Moscow early on Sunday, and another alleged victim of the same attack was hospitalized, ITAR-Tass and Interfax reported, citing city prosecutors. The reports said the men worked at a market in the area.
■ Greece
Quake shakes Ionian island
An earthquake measuring 5.1 on the Richter scale shook southwestern Greece early yesterday, but no damage or injuries were reported, Greek authorities said. The epicenter of the quake was in the sea south of the Ionian island of Zakynthos, 240km west of Athens, and was felt along Greece's western coastline, the Athens Geodynamic Institute and fire brigade said. The quake, which hit at 4:34am, is the latest in a string of tremors that has hit the region in the past few months.
■ Portugal
Baby kidnapper likely Brit
The main suspect in the kidnapping of three-year-old Madeleine McCann who went missing from her bed in a Portuguese beach resort last week could be British, local daily Correio da Manha reported yesterday. The daily said Portuguese police had produced a picture of the suspect based on testimony from dozens of employees and tourists at the Praia da Luz holiday village. "It is a medium-sized individual with a strong body," an unnamed police source was cited by the daily as saying, adding that the suspect was believed to be British. Up to 150 Portuguese police officials are searching for the blonde-haired girl and British officials have also traveled to the Algarve to help.
■ Mexico
Thousands pose nude
About 18,000 people posed nude on Sunday for US photographer Spencer Tunick in Mexico City's Zocalo Square, a new record for the US artist known for snapping his subjects in the buff. Thousands of naked volunteers formed a giant mosaic of flesh for Tunick, who far exceeded his own previous record of 7,000 nude models set in Barcelona. He told reporters "all eyes are looking south from the United States to Mexico City to see how a country can be free and treat the human body with happiness and not as pornography or as a crime."
■ Brazil
Catholic numbers falling
The percentage of Catholics in Brazil has decreased by 10 percent in the past decade, a study revealed on Sunday, days ahead of Pope Benedict XVI's first official visit to the country. The pope's four-day visit begins tomorrow. He is expected to discuss poverty, the impact of globalization and the rise of evangelical sects in the traditionally Roman Catholic stronghold with Latin American bishops. Sixty-four percent of the population is Catholic, compared with 74 percent 10 years ago, said the study by the Datafolha Institute published in the newspaper Folha de Sao Paulo.
■ United States
More bipolar disorders
About 4.4 percent of adults in the US have experienced a form of bipolar disorder in their lifetime, a study published yesterday said. That is more than four times more common than previously thought, the study found. In addition, many of those people are not receiving the treatment they need because they are not being properly diagnosed, it said. Bipolar disorder is a leading cause of premature death due to suicide, drug abuse and associated health conditions such as diabetes and heart disease. It causes mood fluctuations between periods of depression and periods of mania, which are characterized by impulsive behavior.
■ United States
Menu of bad taste
Six groups representing minorities have asked a Tucson, Oregon, restaurant to stop advertising what they say are racial slurs against Chinese people. And so far, those groups say Eggrolls Etc has yet to respond to mailed and hand-delivered letters objecting to the business's fliers and menu. The fliers read: "Every order is delivered via rickshaw by first generation Chinese immigrants ... We really should charge more for delivery, old Chinamen are getting expensive these days." Jason Wong, president of the Tucson Chinese Association, said the word "Chinaman" has historically been used as an offensive term to deride Chinese people and culture.
■ United States
Boy's ear home to spiders
These guys were not exactly Snap, Crackle and Pop. What began as a faint popping in a nine-year-old boy's ear -- ``like Rice Krispies'' -- ended up as an earache, and the doctor's diagnosis was that a pair of spiders made a home in the ear. "They were walking on my eardrums," Jesse Courtney said. One of the spiders was still alive after the doctor flushed the fourth-grader's left ear canal. His mother, Diane Courtney, said her son insisted he kept hearing a faint popping in his ear -- "like Rice Krispies."
Comments will be moderated. Keep comments relevant to the article. Remarks containing abusive and obscene language, personal attacks of any kind or promotion will be removed and the user banned. Final decision will be at the discretion of the Taipei Times.