Gates receives frosty reception in Moscow
CLEAR MESSAGE Russia sees US plans to site missile defense systems in the Czech Republic and Poland as a threat, and let the US defense secretary know it
US Defense Secretary Robert Gates met a frosty welcome in Moscow on a visit to reassure Russia yesterday over plans for missile defenses, a dispute that has helped drive relations to a new low.
Washington's plan to build a missile defense shield in Europe threatens global security, Russian Defense Minister, Anatoly Serdyukov, told Gates at a meeting in Moscow yesterday.
The US is offering to share some benefits of the missile shield with the Russians, saying it is meant to address a possible threat from so-called rogue states such as Iran.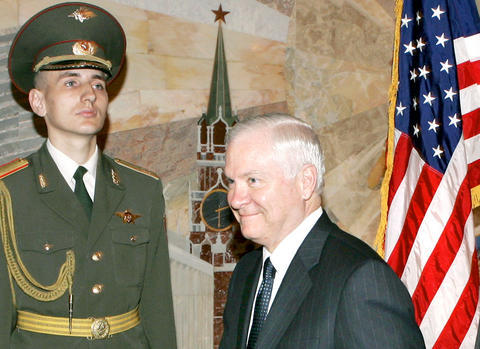 US Defense Secretary Robert Gates arrives at the Defense Ministry in Moscow for his meeting with Russian Defense Minister Anatoly Serdyukov.
PHOTO: AFP
Russia though sees plans to site missile defense systems in Poland and the Czech Republic as a threat.
Serdyukov spoke after meeting Gates, who flew to the Russian capital in hopes of defusing opposition to the controversial US project.
"We believe the strategic missile defense system is a seriously destabilizing factor that can have a significant influence on regional and global security," Serdyukov said, speaking through an interpreter.
A senior administration official travelling with Gates said the defense secretary would press Putin on a deal offered to the Russians last week to share benefits of the system such as data and possibly technology.
But the Pentagon intends to move forward whatever the response, the official said.
"We're going to continue to make this effort with Russia but we're also very clear, whether Russia cooperates with us or not is really up to Russia," the official said on Sunday.
Washington wants to place 10 interceptor missiles in Poland and radar in the Czech Republic, at a cost of US$3.5 billion.
US officials argue the systems Washington wants to put in Poland and the Czech Republic cannot be used to defeat a Russian missile.
But Russians voice both technical and strategic problems with US plans.
Some Russian officials have argued the sites are so close to Russia that they could harm its security. Some also say the US could eventually equip the sites with offensive weapons aimed at Russia.
Russian officials say they support exploring a collective missile system that would protect against rogue states, but are annoyed that the US has gone ahead unilaterally.
Missile defense is only one sign of deteriorating relations between Washington and Moscow.
While the Washington has made accusations that Russia is rolling back democracy and trying to revive past imperialism, Moscow charges the US with acting unilaterally and meddling in its domestic affairs.
Russia and the US have different approaches to Iran's nuclear program, which the West suspects is to develop atomic weapons and Tehran says is to generate power. A Russian contractor is building Iran's Bushehr nuclear power plant.
Washington also criticizes Russia for selling anti-aircraft missile systems to Iran.
Comments will be moderated. Keep comments relevant to the article. Remarks containing abusive and obscene language, personal attacks of any kind or promotion will be removed and the user banned. Final decision will be at the discretion of the Taipei Times.