Former PM barred from taking flight
NO-FLY The former Bangladeshi prime minister, having vowed to return home to fight murder and corruption charges, was stopped by the military-backed government
Former Bangladeshi prime minister Sheikh Hasina was blocked from boarding a flight home from London after the military-backed government barred her from returning.
Hasina had vowed to return to fight murder and corruption charges after the country's military-backed interim government moved last week to force her and former Prime Minister Khaleda Zia -- who together have dominated Bangladeshi politics for the past 15 years -- into exile.
"This is my country, and I don't understand why they should stop me," Hasina said after being told by British Airways at London's Heathrow Airport on Sunday that she could not travel.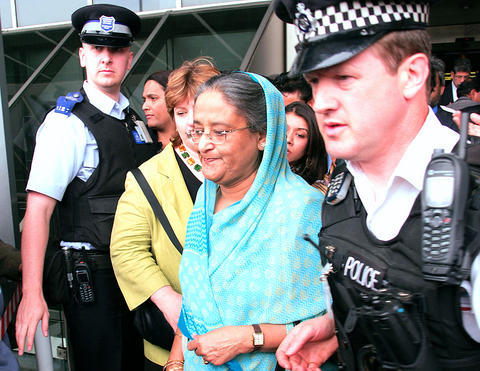 Former Bangladeshi prime minister Sheikh Hasina is escorted by two British police officers out of Heathrow Airport, London, after she was prevented from boarding a flight to Dhaka on Sunday.
PHOTO: AFP
Bangladeshi media reported last week that Hasina would be refused entry to the country, and that authorities had told airlines not to allow her to board any flight to Bangladesh.
In the Bangladeshi capital, Dhaka, Hasina's Awami League party said it plans to fight in court the government ban on her return.
"How can a free citizen be barred from coming home? We will challenge this in court," said Zillur Rahman, a senior Awami League leader. He did not specify when the party will petition the court.
British Airways said in a statement that it -- along with other airlines -- had been notified by the Civil Aviation Authority in Bangladesh that a passenger had been banned from entering the country.
"As a result we're not able to accept them for travel on BA," the airline said.
Hasina's close aide, Abdus Sobhan Golap, accompanied her to the airport. He said she argued for an hour and a half with airline officials who showed her documents issued by the Bangladeshi government.
"They said there were other passengers on the plane and it was going to be very insecure for her," Golap said. "They said it was better not to fly."
Hasina said she wanted to return to Bangladesh to fight the allegations against her.
"I want to face the case," she said. "This is totally fake, false, I didn't commit any murder. So it is absolutely [a] false case, and that's why I'm going to face it."
Rahman also said the party plans to challenge the arrest warrant issued on Sunday against Hasina.
"She is willing to come back to face the charges against her, but the government is barring her. How can she appear in court if she is not home?" he said.
Many Bangladeshis blame the political rivalry between Hasina and Zia for making the country's widespread poverty and corruption worse. The interim government hoped forcing them into exile would calm the bitter division between their political camps, which has derailed the country's fragile democracy.
Hasina, who was prime minister from 1996 to 2001, was charged with murder on April 11 while she was in the US on a visit.
The government on Wednesday accused her of issuing "inflammatory statements" against the country's military-backed interim government while she was outside the country.
The murder case involves the deaths of four protesters in a riot in October. The riot broke out at one of a series of demonstrations by her supporters accusing the government of her rival, Zia, of stacking the committee that was supposed to oversee January elections and rigging voter rolls.
More than 30 people died in the protests, which eventually led to the cancellation of the polls and the takeover by the current military-backed government under emergency powers.
Metropolitan magistrate Meer Ali Reza issued the arrest warrant for Hasina on Sunday, her counsel Kamrul Islam told reporters. But he didn't make any further comment.
Comments will be moderated. Keep comments relevant to the article. Remarks containing abusive and obscene language, personal attacks of any kind or promotion will be removed and the user banned. Final decision will be at the discretion of the Taipei Times.