Bomb explodes at Bangkok shopping center
REPEAT? The Major Cineplex Ratchayothin was among nine places bombed on New Year's Eve, blasts that left three people dead and injured dozens around the capital
A nationwide security alert was issued across Thailand after a bomb exploded outside a Bangkok shopping center that was also hit in a wave of New Year's Eve attacks, officials said yesterday.
The device blew up at a telephone booth in front of the Major Cineplex Ratchayothin shopping centre on the northern outskirts of the city late on Monday.
No one was injured.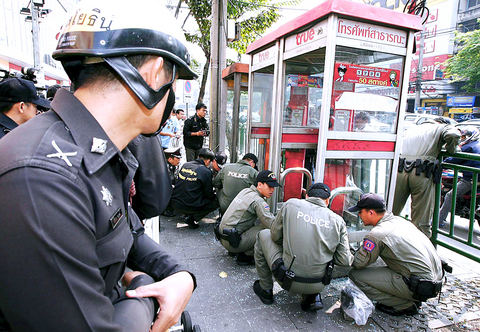 Thai forensic police inspect a bomb site in front of a shopping complex in Bangkok yesterday.
PHOTO: EPA
"There is a row of three phone booths and the bomb exploded in one of them. The glass was shattered, but there were no casualties," Bangkok city police spokesman Colonel Supisan Pakdinarunart said.
The shopping center was among nine places in Bangkok bombed on New Year's Eve, blasts that killed three people and injured dozens around the capital.
Those attacks were followed by a coordinated arson and bombing spree across the insurgency-hit, mainly-Muslim southern provinces at the start of the Lunar New Year in February. The incidents left nine dead and 44 injured and were blamed on Islamic separatists.
Interior Minister Aree Wongariya declined to speculate about who might be behind the latest blast, but said he had ordered all of Thailand's provinces to boost security for the upcoming Buddhist New Year holiday.
"We have to provide security everywhere. I have ordered all provincial governors to be on alert, and have dispatched our informants to find out about any more possible attacks," he said.
The army has for months warned of possible attacks during Songkran, the Buddhist New Year celebrations, which begin on Friday and run for five days.
Police and security officials made efforts to downplay concerns that the blast was linked either to the unrest in the south or to the Bangkok bombings.
A senior intelligence official who spoke on condition of anonymity said that security agencies would divert some resources from the insurgency in the south to step up their guard in the capital during the holiday.
"We will give more importance to Bangkok rather than the three southern provinces," he said.
Police said they believed the bomb was meant to cause panic rather than damage, and could have been related to business disputes linked to the shopping center.
"It was a weak bomb that caused a loud noise, but was not meant to kill. That's different from the New Year Eve bombings," Bangkok Metropolitan Police Commander Adisorn Noncie said.
"It's unlikely that it was connected with the unrest in the south or the New Year bomb attacks. It was just someone wanting to cause panic," he said.
Thailand's top security official, Prakit Prachonpachanuk, who heads the National Security Council, said Monday's blast would not likely prompt the government to declare a state of emergency in Bangkok.
"We have to be prudent about declaring a state of emergency, and consider whether it's appropriate in response to the situation," he said.
Thailand's junta leader Sonthi Boonyaratglin had urged the government to declare an emergency in Bangkok to crack down on small protests against the military regime. So far, the government has refused.
The regime ousted former prime minister Thaksin Shinawatra in a military-backed coup in September last year citing alleged corruption of the Thaksin government, and following months of political unrest.
Comments will be moderated. Keep comments relevant to the article. Remarks containing abusive and obscene language, personal attacks of any kind or promotion will be removed and the user banned. Final decision will be at the discretion of the Taipei Times.