Russian police arrest dozens of protesters
Russian riot police arrested dozens of protesters trying to hold an anti-Kremlin rally in the city of Nizhny Novgorod on Saturday, months ahead of key national elections.
Hundreds of police bundled the marchers, who were defying a ban on protests to demonstrate against the political stranglehold of President Vladimir Putin, into prison vans that were driven away from central Gorky Square.
"Around 30 people have been detained, four or five of them were active organizers," Alexander Gorbatov, a spokesman for local police, was quoted by the Interfax news agency as saying.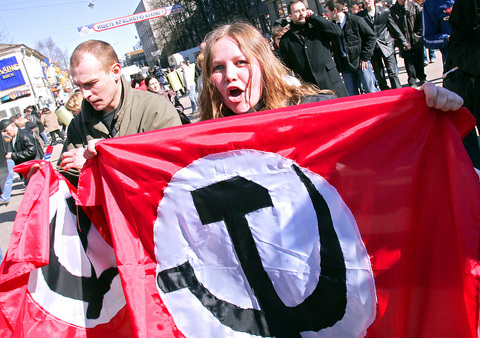 Members of the National Bolshevik Party hold party flags shortly before being detained by police during an opposition rally in Nizhny Novgorod, about 400km east of Moscow, on Saturday. Russian authorities violently dispersed the rally, detaining hundreds of activists, organizers said.
PHOTO: AP
As a helicopter buzzed overhead, riot police with batons, black helmets and shields then forced the remaining dozens of protesters, some of whom were chanting "Fascists!" to disperse.
Organizers said that dozens of activists had also been arrested ahead of the demonstration in Nizhny Novgorod, a 1.3-million strong regional center some 380km east of Moscow that is Russia's fourth biggest city.
"This shows that the authorities are afraid of the people. There are no extremists here. People just want to be heard," said Oksana Chelysheva, one of the organizers.
Some of those detained were journalists covering the rally who were released after showing their accreditation documents.
One of them, Remco Reiding, a Moscow-based reporter from the GPD Dutch press association, was beaten up by police, Chelysheva told reporters by telephone.
"He came into our office. He had two bruises on his face and the sleeves on his coat were ripped," said Chelysheva, who works for the Russo-Chechen Friendship Society. "He said that a policeman had hit him because he didn't seem to understand the order to place his head on a bus and to spread his legs."
Stanislav Dmitryevsky, the head of the Russo-Chechen Friendship Society, also recounted cases of police brutality, telling Russian radio station Echo of Moscow that he saw police kicking several protesters in the back.
The rally was organized by The Other Russia, a movement that brings together a wide range of opposition groups and has held a series of rallies against President Vladimir Putin's leadership in recent months.
Security was tight in the city, with the deployment of riot police, special forces officers and interior ministry troops, as well as document checks and searches in the centre and at the local airport.
Local authorities gave no official permission for the rally and set aside the square for a children's festival instead.
But organizers said protesting was their constitutional right.
"Give Back Choice to the People!" and "Give the Money Back to the People!" read the slogans on pamphlets for the rally that also criticised price increases on utility bills and high taxes on small businesses.
The protest movement is called "March of the Dissenters" and its leaders include former Russian prime minister Mikhail Kasyanov, ex-world chess champion Garry Kasparov and an independent lawmaker, Vladimir Ryzhkov.
They have denounced the domination of Russian political life by Putin and the ruling United Russia party and have said that the opposition has no choice but to take to the streets.
An unsanctioned rally organized by The Other Russia in Saint Petersburg earlier this month drew 5,000 protesters. Dozens of activists were arrested after protesters broke through police lines and scuffles ensued.
Opposition activists say they are facing official harassment and frequent arrests ahead of parliamentary elections in December and a vote in March next year to elect Putin's successor.
Meanwhile Kremlin officials have warned about the dangers of a new Russian revolution and "extremism" and denounced perceived foreign influence in Russia's political affairs.
Comments will be moderated. Keep comments relevant to the article. Remarks containing abusive and obscene language, personal attacks of any kind or promotion will be removed and the user banned. Final decision will be at the discretion of the Taipei Times.