Istanbul apartment building collapses, kills two
A five-story apartment building collapsed early yesterday, killing at least two and injuring 26 others, the governor said.
Officials blamed the collapse on shoddy construction but could not provide an immediate explanation. It was not clear how many people were inside when the building came down after midnight. Istanbul Governor Muammer Guler said at least 27 people were living in the destroyed building.
A municipality worker and the owner of a coffee shop, in the basement of the building, alerted the residents by ringing the bells, shouting and throwing pebbles at the windows and saving many lives, authorities said.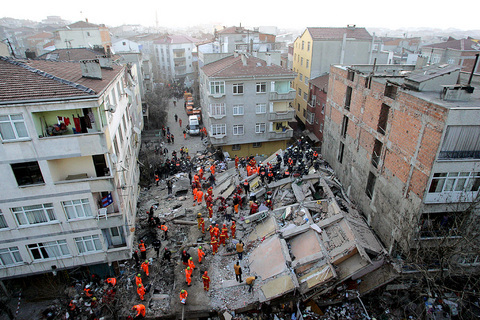 Rescue workers search for survivors at a collapsed building in Istanbul, Turkey, yesterday. The five-story apartment building collapsed early yesterday, killing at least two and injuring 26 others.
PHOTO: AP
"We think maybe just a few more people remain buried," under the destroyed building, Guler said.
Guler earlier said rescuers reported that a seven-year-old girl was pulled out dead but when she was taken to hospital, doctors said she was alive though barely breathing. Her face was covered in a white film of dust that was mostly crushed concrete when she was pulled out.
"She is alive and connected to a respiration machine," Guler said. The state-run Anatolia news agency identified the girl as Evin Demir, adding that she was in critical condition.
Guler said 26 people were hospitalized, including some who escaped from the coffee house.
There was no credible information about why the building collapsed but media reports suggested that its foundations might have been weakened by an adjacent construction. Istanbul Mayor Kadir Topbas confirmed that the building was listed as unsafe and one needed to be pulled down against a quake.
Ali Karahan, chief of Istanbul firefighter department, said some residents managed to escape the building when it began crumbling and those who were injured were all trapped in the stairway.
A municipality worker who was walking in the street by chance saw the building rocking and alerted the residents by shouting and throwing stones at the windows, Topbas said.
Ilhan Karadeniz, the owner of the coffee shop, said he woke up his neighbors when he noticed that the building was shaking.
"I was doing cleaning when I heard columns crumbling, I quickly rushed out and began ringing the bells," private Dogan news agency quoted Karadeniz as saying.
Teams, helped by sniffer dogs, were still working under floodlights to find out whether any other people were trapped under the rubble of the building. Rescuers were pulling away pieces of concrete with their bare hands.
Geologists have urged the Turkish government since 1999 to tear down some 50,000 buildings that would probably collapse if a big quake hits Istanbul.
Comments will be moderated. Keep comments relevant to the article. Remarks containing abusive and obscene language, personal attacks of any kind or promotion will be removed and the user banned. Final decision will be at the discretion of the Taipei Times.